So, you want to use AirDrop to share your contact details. And why not?
It's fast, it doesn't require you to print and carry expensive business cards, and your phone is almost always on you.
The question is, how do you airdrop a business card from your phone to another's?
That's where this article comes in. We walk you through the process step by step so that you can get to the important part of networking: nurturing your new business relationship and generating leads.
How to Share Your Business Card with Airdrop
AirDrop is a feature on Apple devices. It allows you to quickly and easily share files, photos, and other content between Apple devices that are in close proximity to each other.
Some digital business card providers have apps that you can AirDrop your digital business card from directly but you can also AirDrop files from your contacts app.
Our how-to guide is for those using their contact app as their digital business card.
So without further ado, here's your 7-step process for sharing your digital business card information via AirDrop:
Step 1 – Turn on Bluetooth
Make sure you and the person you're sharing your details with have Bluetooth turned on. You can't transfer files without it.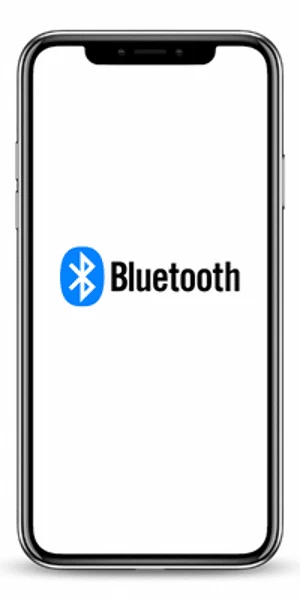 To check that they're turned on, head to your phone settings and click 'Bluetooth'. There will be a toggle that says 'on' or 'off'. If it says on, you're good! If it says 'off', simply toggle it to on.
Step 2 – Set Bluetooth to receive from 'Everyone'
Bluetooth's default setting makes it so that you can only receive files from people you already have in your contacts list.
Since you're using AirDrop to add your contact information to their phone, this obviously won't work.

You and the person you're sharing details with must set Bluetooth to receive from 'Everyone'.

In your settings, find your way to 'AirDrop'. If you have trouble finding it, you can search for it at the top of your settings app. From there you can choose to have AirDrop off, set to 'Contacts Only', or to 'Everyone'.
Step 3 – Go to your contacts app
Go to the app that holds all your contacts and select 'My Card'. This card holds your contact information. Select it. Before you do anything else, make sure it holds everything that you want to be shared and nothing that you don't.
Step 4 – 'Share Contact'
In your contact card, scroll down until you see 'Share Contact'. Press this. It will trigger a popup on the bottom of your screen.
Step 5 – Press 'AirDrop'
Press the AirDrop button.
It will look like this:

Step 6 – Choose your recipient
People nearby who have Bluetooth turned on will start to show up on your screen. Find your new contact's name and click it.
Step 7 – Accept AirDrop
Your new contact will need to accept your request to share your information.
Once they do your details will be shared with their phone and they can add you as a new contact.
Et voila! You've officially AirDropped your makeshift business card.
The limitations and risks of sharing with AirDrop
While convenient, AirDropping your business card does have its limitations.
For example, it can't be used with Android users. It also poses a security risk.
That's because AirDrop uses Bluetooth and Wi-Fi to transfer files from your virtual card. This process compromises user privacy and security.
In fact, researchers from a 2021 report stated 'It's possible [for attackers] to learn the phone numbers and email addresses of AirDrop users—even as a complete stranger.'
3 other paper-free ways to share your contact information
There are multiple ways to share your professional information beyond AirDrop. Some are safer than others.

They include:
Digital Business Cards with QR codes (soft coded and hard coded)
Physical cards with NFC technology
LinkedIn connection requests
Let's break down each option in greater detail and evaluate how effective and secure they are as a networking tool for your business—because keeping your and your company's information safe should always be a top priority.
1. Digital business cards using a QR Code
Digital business cards with QR codes are the fastest, most eco-friendly way to exchange contact information.
They save you the hassle of going through Bluetooth or Wifi, can be branded to your company identity and can be shared across the entire business.
How do the QR code business cards work?
It's simple. You scan business cards using mobile devices. Most phones have a QR code scanner built into their camera app. The scanner reads the QR code and transfers information. You'll either be taken to a URL that hosts information or prompted to download the contact information directly to your phone app.
The best digital cards live in your digital wallet (Apple Wallet or Google Pay) for easy, internet-free access.
It's important to pay attention to the type of QR code your digital business card uses. There are soft-coded and hard-coded options. They dictate whether the information is shared via URL or directly to your phone app.
For businesses that want to equip their employees with safe and reliable company business cards, this difference matters.
Soft-coded vs hard-coded: What's safest?
Soft-coded QR codes on a digital business card, such as those you'd find on app-based cards take recipients to a URL. The issue with this is that the URL can be accessed by anyone, anywhere.

That puts your information at risk of falling into the wrong hands.
Hard-coded QR codes, however, transfer your details instantly to the recipient's address book. It's the safest way to share your and your company's information.
Take it from Doorway Co-Founder and Managing Partner, Chase Tecimer:
"Though Hardcoded may sound "locked", this is certainly not the case. Using recent updates from Apple Wallet and Google Pay functionality, we are able to connect these hard-coded QR Codes to our cloud and to central user accounts – whenever the device has reception, these QR codes will be receiving information from our servers. This ensures contact info is always up to date. With a product mission focused on reliability, security, and remote management for large enterprises, hard-coded QR Codes are a perfect solution."
If security is a high priority for your business, you should choose a hard-coded QR code provider like Doorway.
Not only will you network securely, but you'll have a branded card with your company logo that can be updated and distributed across the business in seconds from your HR software.
You can read more about how Doorway keeps your data secure here.
2. Business cards using NFC technology
Why print hundreds and thousands of paper cards when you can use one sturdy, electronic business card again and again?
If you don't want to go completely digital, NCF business cards are a great way to reduce paper waste.
Rather than using a QR code or Bluetooth, NFC cards rely on near-field communication technology. Hence the acronym, NFC.
However, NFC does pose a security risk. It works similarly to a soft-coded QR code. The NFC technology sends people to a URL link. That link, once again, can be accessed by anyone.
3. Connect on Linkedin (and other social media platforms)
Giving out your contact details via a business card (digital or otherwise) requires you to be face-to-face.
But sometimes you're trying to network with someone you haven't met yet. This is where LinkedIn and other social media platforms can come into play.
Linkedin is great for B2B networking.
You can send a connection request and add a message that explains why you're connecting. Don't try to sell to them in your request. It can put people off, especially since they don't know you yet.
Namedrop mutual connections and suggest it's a good idea to connect with like-minded people.

The key is to make it genuine and to try and add value where you can. Once you've connected you can work on developing that relationship over time.
While this isn't a true business card, your profile does hold almost all the details you would have on one. It's relatively secure as long as you're mindful of what you post online.
Why avoid paper business cards?
In 2023, there's really no need to use paper business cards. Especially with the number of alternatives[1] out there that cause less harm to the environment.
Consider this: Paper products make up an estimated 70% of the total waste in offices.
And it's a product the world continues to pump out—about 880 billion pounds of paper and cardboard are produced every year.
Paper is easily recycled, but business cards often have finishes that aren't. Plus, the inks they use, including petroleum-based ink, can damage soil and pollute waterways.
Beyond their environmental impact, traditional business cards are costly and impractical. Think of how often you need to order new ones.
With a digital business card, you only need one card per employee. And you'll never have to replace them because you can update the card from a centralized dashboard that connects to your HR system.
Network your way to new business with a Doorway Digital Business Card
With a Doorway Digital Business Card that lives in your digital wallet, you can complete deals and generate leads without putting yourself or your business at risk.
Get in touch with us here to enter a new era of networking.