And now you're going to join their ranks by creating one on your Android phone.
In this step-by-step guide, we'll walk you through the process of crafting a digital business card that'll impress and connect you with others in no time.
At a glance, those steps are:
Choosing a digital business card provider
Customizing your card to your brand and information
Sharing your card with others
Accessing and updating your card
Step 1: Choose the Right Digital Business Card Provider
Digital business cards are not all the same. For example, some providers suit enterprise businesses while others suit freelancers, small businesses, or solopreneurs.
You need to choose the provider that fits your networking needs and priorities, including that you want to create and house the card on your Android device.
Doorway is the most sustainable, secure, and savvy way to network in the 21st century.
It's also easy to use and update and lives directly in your Android's Google Wallet.
If you're curious about other options, you can explore this list of the 11 best digital business card providers.
Once you have your provider selected, you'll be able to set up an account and move on to the next step.
Factors to consider when choosing a digital business card app
Here are some factors to consider as you make your digital business card provider choice:
Cost: Consider your budget and the app's pricing structure.
Doorway is free for individual users and follows a SaaS pricing model with three tiers available for businesses. Check out the image below or head to our pricing page to learn more.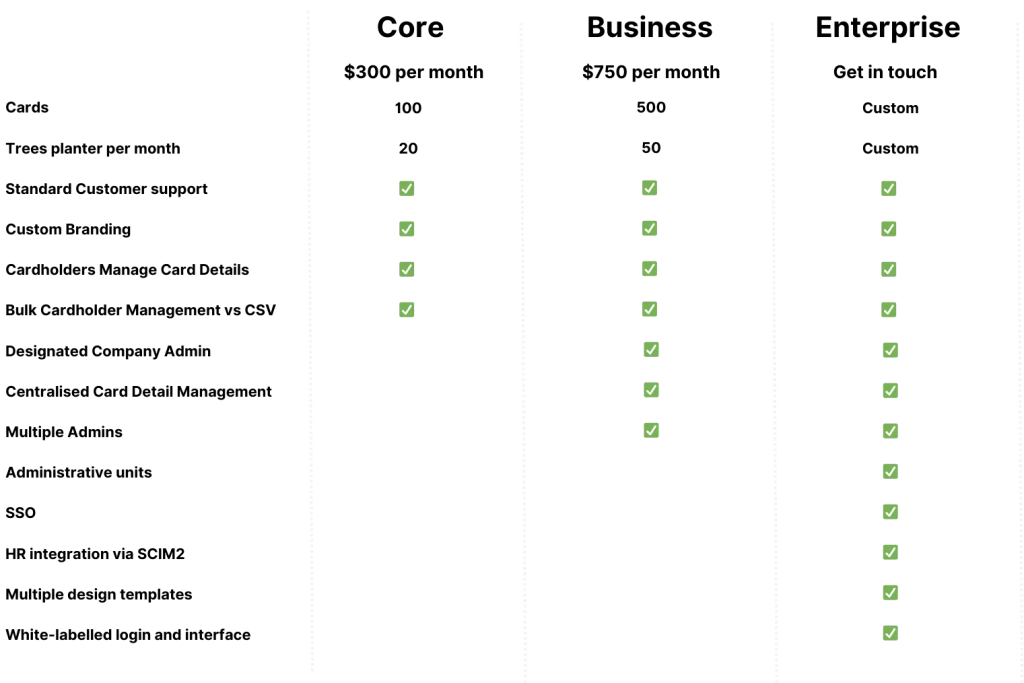 Sustainability: Opt for a provider that prioritizes eco-friendliness.
With Doorway, you contribute to a greener future by reducing paper waste and because we plant trees on behalf of our customers.
Ease of use: The card and platform should be user-friendly, allowing you to create and use your card easily.
Doorway cards work with or without the internet and are easily accessed through your Digital Wallet, meaning it's on hand as long as your phone is. Plus your contact details land directly into your new contact's phone when they scan your QR card.
Ability to customize design and content: Your digital card should reflect your brand and personality.
Doorway provides various customization options, ensuring your card is unique and memorable.
Ease of updating: Regularly updating your card with new information is essential.
Doorway is seamless to manage, especially for larger organizations. You can link your HR system directly to the platform so that employee details are updated automatically and quickly. Or you can do bulk CSV uploads to create and manage employee cards at once.
Individual users will be able to update their details themselves from their Doorway dashboard.
Security: Protecting your data is crucial.
Doorway values your privacy and employs top-notch security measures to safeguard your information.
By weighing these factors, you'll be able to select the best digital business card provider for your needs.
Step 2: Customize Your Digital Business Card Design and Content
Creating a digital business card that reflects your brand and shares the right information is vital to making a lasting impression.
In this step, we'll guide you through customizing your card with three sections:
Choose a template or start from scratch: We'll discuss selecting a pre-made template or creating a unique design from the ground up.
Add your personal and professional information: We'll help you determine the essential details to include on your card.
Consider these design elements: We'll explore the key design components that will make your card stand out and leave a lasting impression.
By following these guidelines, you'll create a digital business card that accurately represents your brand and effectively communicates your information. Let's dig in.
Choose a template or start from scratch
Selecting the right design for your digital business cards is crucial.
Most providers offer a range of pre-made templates that you can easily customize to match your brand.

Below you see an individual user's Doorway dashboard. You can change your digital business card design by logging into your dashboard from your Android phone and clicking 'Change card design'.
At Doorway, individual users can choose from nine color templates.
If you're on a paid business plan, you can design your card yourself by uploading your logo and brand details to pre-made templates.
If you want a truly unique design, consider working with a professional designer to create something tailor-made for you.
Whether you decide to use a template or start from scratch, remember that your card should reflect your brand's identity.
Add your personal and professional information
Even the simplest of digital business card designs requires you to add custom contact information.
In the Doorway app, you need to click the button that says 'Personal Card'. It will pull up your details that you can then fill in and edit.
From desktop it looks like this:
From your Android it will look like this:
Some information you will want to include on your card are:
Name, job title, company, department
Contact information (phone, email, website)
Social media profiles
Landing pages that host resources or additional information (skills, certifications, etc.)
Remember, your digital business card should convey your professional identity effectively and efficiently. Only include relevant information that can help close more deals, win more funding rounds, hire more high-performers or achieve whatever your networking goals are.
To ensure your card includes the appropriate information, check out our article on what type of information to include on your digital business card.
Consider these design elements
To create digital business cards that stand out, consider the following design elements:
Colors and fonts: Choose colors and fonts that align with your brand and are easy to read.
Logos and images: Incorporate your logo or relevant images to make your card visually appealing and memorable.
Layout and organization: Arrange your information in a clear and organized manner, ensuring it's easy for the recipient to find what they need.
If you're in need of design inspiration, take a look at this article showcasing popular business card designs.
Step 3: Save Your Digital Business Card to Your Phone
Once you've created your digital business card, it's essential to save it to your phone for easy access and sharing.

With Doorway, you can save it directly from the platform to your digital wallet, or if your company created the card on your behalf, simply download it to your phone from the email link sent to you.
In the following sections, we'll guide you through the process of saving and accessing your digital business card, ensuring it's always ready to help you make meaningful connections.
Download Your Card From the App
If you're an individual user of Doorway, you'll need to be logged into your account and find the big button that says 'Save to phone' with the Google Pay logo next to it.
Once you click it, the card will automatically be downloaded to your Google Pay Digital Wallet. And there you have it ready to deploy at any networking event or moment.
Or Follow the Instructions in Your Email
If you have a Doorway digital business card that's been provided by your employer, then you will need to go to your email and follow the instructions provided.
Make sure to do this from your phone so that it can be downloaded instantly.
Step 4: Share Your Digital Business Card
Now that you have your digital business card saved on your Android phone, it's time to start sharing it with others to expand your network.
Afterall, what good is a digital business card if you don't use it?
In this section, we'll explore two effective methods of sharing your digital business card:
Sharing via QR code
Sharing via email or social media.
With these options at your disposal, you'll be well-equipped to make the most of your new digital networking tool, no matter the situation.
Sharing via QR code
A Doorway digital business card includes a QR code, making it incredibly convenient and efficient to share your information.
QR codes are the best way to share your digital business card because they can be quickly scanned by a smartphone, instantly providing the recipient with your details.
Simply pull up your digital business card on your phone through your Digital Wallet and have your new contact scan it. That's all it takes!
Sharing via email or social media
Another effective way to share your Doorway digital business card is by incorporating the QR code into your email signature or social media accounts.
To do this, simply take a screenshot of the QR code from your Doorway card and add it to the desired platforms or add it to your email signature that appears on every email.
Sharing your digital business card via email or social media allows you to broaden your reach and make it easy for potential contacts to access your information.
By including the QR code in your email signature, for example, you ensure that every email you send has the potential to generate new connections.
Step 5: Keep Your Digital Business Card Up-to-Date and Accessible
Rebrand? Name change? Promotion? All reasons you'll need to update your card details. And who knows what other reasons might come up.
It might be that you want to add special promotions to your networking efforts via a URL that's added to your card.
Whatever it is, it's important you share the right contact details at all times. So if changes do happen, you'll need to make sure your card reflects them.
Regularly update your information
With Doorway, updating your digital business card is simple.
As an individual user you can log in to your Doorway account and make the changes. It's fast and easy, plus your QR code is automatically updated from there, you don't need to redownload the card.
Businesses can integrate their HR system with Doorway, enabling seamless updates for employee details.
Alternatively, businesses can use a CSV upload to update multiple cards at once, ensuring that their team's digital business cards remain current and accurate.
Create your Android Digital Business Card with Doorway
Ready to elevate your networking game?
Choose Doorway for a seamless, secure, and stylish digital business card experience on your Android phone.
Craft a card that leaves a lasting impression and stay connected with ease.
It's time to embrace the future of networking—get started with Doorway today and create your digital business card online.
If you're only creating a card for yourself, you can create an account here.