In recent years, a new trend has started to emerge: digital business cards. But what exactly are those? And which provider should you choose?
Business cards have been around for dozens of years and come in many shapes and forms: from the basic card to premium glossy rounded edge card. In recent years, a new trend has started to emerge: digital business cards. But what exactly are those?
What is a digital business card?
Digital business cards represents a general trend we see in our society, away from paper. We went from paper mail to e-mails, so why not go from paper business cards to e-business cards. There are a few different types of digital cards available on the market, find out more here:
Clickable image to share (not recommended)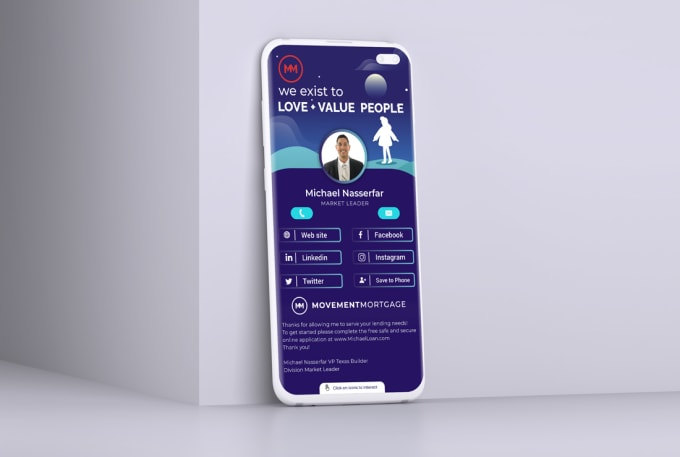 This is the simplest form of digital business cards to share, you can ask a designer to create a clickable image (in PDF format) for you and share it with your contacts via email, SMS, WhatsApp or any existing communication form that supports document transfer.
This is of course not very convenient but it's a good place to start and allows you to fully customise your business card. Freelancer's on Fiverr offer these services for little money.
NFC Business Card (not recommended)
NFC technology is what powers contactless payments and has been used as a way to share contact details as well. You buy a physical business card (usually in wood, metal or plastic) and by holding it close to someone's phone, it will open a web page on their phone with all your contact details.
This is a very fun to use solution but comes with many limitations, the first being that you still need to have a business card with you that is very physical. Besides, because the contact information is not stored in the card itself, the person you want to share your contact details with needs an Internet connection. This is not suitable for events inside buildings, on the Tube or while flying on a plane for example.
Finally, it exposes your personal contact information online and anyone with the link would be able to access your phone number, email and all other pieces of information you shared.
e-Wallet Digital Business Card (recommended)
Most of us use our Apple Wallet or Google Wallet on a daily basis to pay for purchases using our phone or to save boarding passes for flights and more. In addition, you can simply save your business card in your digital wallet as well.
Every digital business card has a QR code that when scanned, automatically creates a new contact in the person's contact book. At business events, you can simply show your QR code to the people you meet and they will have all your details on their phone instantly.
The advantage of this method is that no app installation is required and that no Internet access is required neither.
Best Digital Business Card Solutions (UK)
Doorway: Free digital business card in 1-minute
Doorway is a British startup started by two young founders based in London. It has gained a lot of traffic due to covid restrictions as a contactless way to exchange business details during meetups and events. Anyone can get a card for free and their enterprise offering allows for full customisation of cards.
They're a great fit if your company wants to move from paper business cards to a digital solution for a good price (2-3x cheaper than other alternatives).
V1CE: NFC powered physical business card
V1CE has done a lot of influencer marketing and while all those social media people have rated their physical card highly.
If you're willing to spend around £50 per card, why not give them a try.
Mobilo: Buttons and Key Fobs as business cards
Mobilo is a company based in the USA but they do ship to the UK and have great reviews on Trust Pilot. Besides offering NFC embedded physical business cards, they also offer NFC powered buttons and key fobs as alternatives to share contact details.
They charge around $40 per card and even less for their buttons and key fobs.
Found another interesting digital business card provider? Let us know at thoughts@doorway.digital