When you customize your digital business card to your unique use case, you'll be able to network more effectively and close more deals, in less time.

Need help coming up with ideas on how to leverage your business card based on how you need to use it? We have 12 digital business card examples, broken up into the four use cases we see most as a digital business card provider:
General business
Events and conferences
Sharing information quickly
Real estate
Scroll on to find the perfect example for your networking needs and don't be afraid to combine ideas for a truly custom networking experience.
Digital business cards for doing general business
Explore these 3 digital business card examples designed for general business networking, aimed at making a strong impression and fostering valuable connections.
1. Add social proof
People trust what others have to say about your product or service more than they trust what you have to say about it. Even a familiar logo can go a long way for building trust.
You can add client logos to your digital business card design or leverage social proof on a landing page that you send your contact to.
If you're a B2B and you have G2 badges, consider adding them in the same way as proof of your value.
2. Show off what your business can help them achieve
Your digital business card is your chance to make an impression.

Highlight the key benefits your product or service offers with clear, simple language. For example, you could say, "Boost your revenue by 25% with our data-driven marketing strategies." It's short, sweet, and to the point.
If you want to keep your design clean, you can do the same with a landing page connected to your digital business card. Because you can constantly update the information on your card, you can keep this up to date without paying extra.
The example below demonstrates Qiagen's aim to rid the world of monkeypox.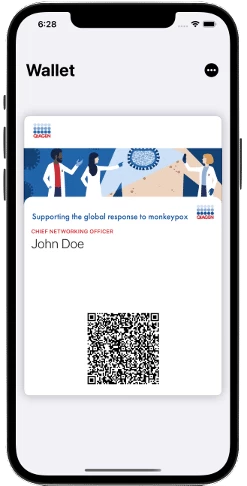 3. Send them to a video that explains your product or service
A video can help you explain your product or service in ways a spoken elevator pitch won't. Plus the video can be revisited again and again, even when you're not there to talk business.

Add a link or QR code on your card that directs contacts to a video about your product or service. Keep it short and engaging, so your potential clients or partners get the idea quickly and want to learn more.
Digital business cards for events and conferences
These next three digital business card examples are tailored to help you stand out and network easily and efficiently in a crowded environment.
4. Send them to a custom landing page
At events and conferences, time is of the essence. Make it easy for your new contacts to learn more about you by directing them to a custom landing page.
This page can have event-specific content or even a special offer just for attendees. It's a great way to stay memorable and keep the conversation going after the event.
5. Make your card visually stand out
In a sea of faces and business cards, you want to be remembered. Make your digital card pop with eye-catching design and colors that reflect your brand.
A well-designed card can be the difference between being forgotten and making a lasting connection.
With Doorway digital business cards you can update your design across your entire employee base ahead of an event. You can do it in seconds and no card goes wasted. That's something a traditional paper business card could never accomplish.
6. Have a QR code that doesn't require internet
Not everyone has a solid internet connection at events, but that shouldn't stop you from networking.
Add a hardcoded QR code to your card that works offline, so potential contacts can easily access your information or a special offer without needing connection.
They'll appreciate the convenience, and it's one less barrier between you and a successful connection.

All Doorway digital business cards use hard coded QR codes. We do this because they're the most reliable way to network and the most secure for you and your business.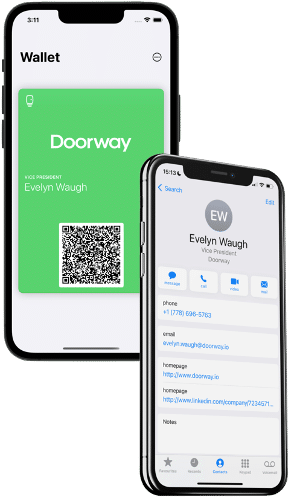 Digital business cards for sharing crucial information quickly
Next up are three examples to help you make a lasting impact in brief encounters. Sometimes you need to share information quickly without the time to nurture the budding relationship.
7. Include social accounts
This digital business card example is pretty straightforward.
Add your social media handles so that prospects can learn more about you. your work, and your personality at their own pace. It's a quick and efficient way to share your online presence without overwhelming them with information.
8. Make them aware of industry accreditations and awards
Including industry accreditations and awards on your digital business card can boost your credibility and make you stand out.
It shows potential contacts that you're not only skilled but also recognized by respected organizations in your field.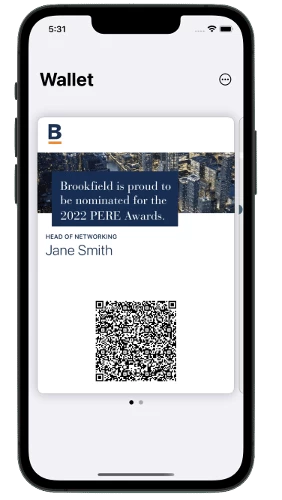 9. Let people know you're hiring
Scale ups and growing businesses need to build a team of high performers around them to sustain and capitalize on opportunities for further growth.
But competition for hiring top talent is fierce. Use your and your team's digital business cards as advertisements for your expanding team. You can either include a design that says 'We're hiring' or have a custom landing page that shows the roles you have live.
Your next hires could come from the connections you make.
Below, Savilll's example shows their commitment to diversity which can support their hiring efforts and brand values.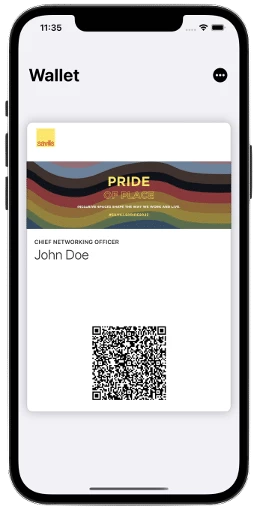 Digital business cards for real estate professionals
Take a look at these last 3 digital business card examples specifically crafted for real estate professionals.
They're meant to showcase your property portfolio, service area, and the type of properties you work with while making meaningful connections in the industry.
10. Showcase current properties you have
Feature a few of your best listings on your digital business card to pique interest and start conversations.
You could include images, brief descriptions, or even virtual tours to give potential clients a taste of what you have to offer.
This works well for attracting buyers, renters, landlords, and sellers because it'll communicate whether you're the right agent for them.
11. Include the location you serve
People want to work with someone who knows their area well. That's true whether it's buyers, renters, or landlords.
Make it clear on your digital business card which locations you serve. This helps potential clients identify if you're the right professional for their needs and can lead to more targeted conversations about the local market.
12. Demonstrate the property types you work with
Different real estate clients have different needs.
Specify the property types you specialize in on your digital business card, whether it's residential, commercial, luxury, or investment properties.
This helps set expectations and shows potential clients that you have the expertise they're looking for in their real estate journey.
And because digital cards have capabilities to hold information beyond their design, you aren't limited by the constraints you'd have with paper business cards.
Network with a digital business card that works for any and all use cases — Get Doorway
Discover the power of networking with Doorway and customize your card to your unique networking needs.
If you're getting cards for your team or business, you can get started by speaking to member of our sales team.
If you're an individual you can set up a free account and start networking with it today.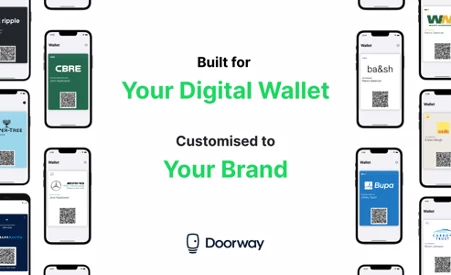 FAQs
What is a digital business card?
Sometimes called virtual business cards or electronic business cards, a digital business card is a way to share contact information with your mobile device. Unlike with a traditional paper business card, you only need one card that you'll use again and again to seamlessly transfer details.
How can I create a digital business card for myself or my business?
To create a digital business card for yourself or your business, you first must choose a digital business card solution. Once you sign up you can begin creating digital business cards with a templated or customized design. It only takes a few steps to create a Doorway QR code digital business card for your Google or Apple Wallet business card.
Can I share my digital business card with others who don't have a specific app or platform?
Yes, you can share your own digital business card with others who don't have a specific app or platform. Most digital business cards can be shared via a unique link or QR code that their phone reads with or without an app.
How can I update my digital business card information easily?
Updating your custom digital business card is simple. Log in to the platform where you created your card, access the editing tools, and make the necessary changes to your information.
Save your updates, and the changes will be instantly reflected on your card, ensuring recipients always have your latest details.
Is a digital business card the same as a virtual business card or electronic business card?
Yes, digital business cards are also referred to as virtual or electronic business cards.
These terms describe the same concept: a digital version of traditional business cards that can be created, shared, and stored electronically, offering a modern and eco-friendly approach to networking and exchanging contact information.