Digital business cards facilitate both by integrating with software and syncing with mobile phones.
The problem, however, is that most digital business cards require an app to function, which can be a hurdle for employees to adopt and use effectively.
Luckily, app-based cards aren't the only digital business cards on the market.
Read on to find out how Doorway's digital business card for your Digital Wallet is the networking tool you needed all along—for more deals, more partnerships, and better brand awareness.
How app-free digital business cards can get you better networking results
The entire point of business cards is to enhance and streamline networking. If your digital business card isn't achieving that, it's failing at its core job.
It's not the digital part that's the problem, it's the app.
That's why Doorway exists. Doorway Digital Business Cards are designed to live in your employees' Digital Wallets, such as Apple Wallet or Google Pay. They're easier to use, more seamless to distribute, and more secure than app-based cards.
Because of that, they're better at getting your people to effectively network.
People want to use Doorway cards. In fact, at CBRE's 2022 conference in Nashville, we demonstrated the power of app-free digital business cards to 800 attendees.
Before the event (and with outbound efforts ahead of time), we had only 150 sign-ups. Once attendees saw the card in action, we had more than 500 sign-ups by 2 pm. People were going to their emails to create, download, and use their very own Doorway cards for the remainder of the event.
And that's not the only reason digital wallet cards are better for networking.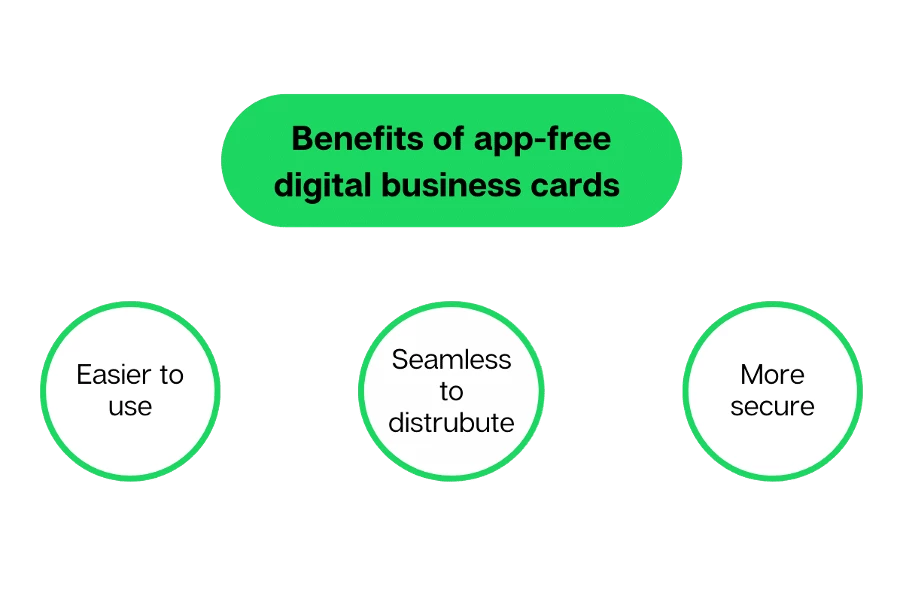 Easier to use than app-based cards
One of the main benefits of using a Doorway Digital Business Card is that it's easier to use than an app-based card.
App-based cards require you to have internet and adequate phone storage. Plus you need to open the app to pull up your digital business card.
This can be time-consuming and frustrating, especially if you're in a hurry or don't have a reliable internet connection.
Wallet-based cards don't require the internet and can be accessed quickly, making them a more convenient option for professionals on the go or without a strong internet connection.
Seamless distribution to employees
Another advantage of using Doorway Digital Business Cards is that they're seamless to distribute to employees.
It's not just that the cards are easy to create in bulk, it's that employees genuinely download them to their phones. This is because the card is sent to their email and all they have to do is click a button to download it into their Digital Wallet.
With app-based cards, your employees are less likely to download the card. And if they don't have the card downloaded, then they're not networking as effectively as they could be.
Doorway Digital Business Cards have seen a high percentage of downloads, making it easier for companies to ensure that their employees are using them to network and spread their corporate identity.
Company and employee data stays secure
Digital business card apps use soft-coded QR codes. Scanning them prompts new contacts to access your details through a link, which can put your company data at risk.
Compare that to Doorway Digital Business Cards that use hard-coded QR codes. No one can accidentally or maliciously access your details, ensuring that employee information is only shared with those you want to have it.
The benefits of using Doorway Digital Business Cards vs traditional paper cards
If a digital wallet-based card outperforms app-based ones, it's almost a given it's better than a traditional card.
But in case there's any doubt, let's look at how digital business cards stack up against paper business cards.
Compared to traditional cards, digital business cards are:
Easier to use
Simple to distribute
Painless to update
Eco-friendly
Easier to use than traditional cards
Digital business cards are easier to use than traditional cards.
As long as you have your phone on you, you're able to share your digital card with another person. That person doesn't need to then manually input information to their phone, it's there automatically.
So when it's time for them to reach out all they have to do is call, message, or book a meeting. They have everything they need to take action sooner rather than later.
You also don't need to worry about your card getting lost or thrown away and you'll never run out.
This is particularly useful if you are attending a conference or networking event, where you meet many people and exchange multiple business cards.
Simple to distribute
Supplying your employees with 1000s of physical business cards can be a hassle.
But that's not the case when you only need to hand out one per employee, when your employee database is synced to your digital business card database, and when you can manage who gets cards from one centralized system.
Because Doorway integrates with your HR software, your employee data is transferred and allows the platform to create your employee's business cards quickly and efficiently. From there, your employees receive an email with their card which they download to their Digital Wallet. There's no delivery time, no boxes to hand out, and if you have a new joiner you don't need to put through an order for cards.
Painless to update
With traditional cards, if you change your contact details, you have to order a new batch. This can be expensive and time-consuming.
That's not the case with digital business cards.
The card in your Digital Wallet will update from the central database online. This guarantees you always transfer the correct information to all your networking contacts without extra expenses or unnecessary card waste.
They're more eco-friendly
Digital business cards are better for the environment. It's as simple as that.
Sustainability is something every business should be mindful of and paper waste in offices is notoriously high. The average office worker generates about two pounds worth of paper and paperboard products every day.
Business cards shouldn't contribute to that waste if they don't have to.
Digital cards don't require any paper, ink, or materials that wouldn't already be in use (your phone), making them a more sustainable option.
By using digital business cards, your business can reduce its carbon footprint and help to protect the environment.
Other businesses are already taking this step. Fever-Tree is a Doorway Digital Business Card client and Amanda, their office manager, is passionate about reducing the company's paper use.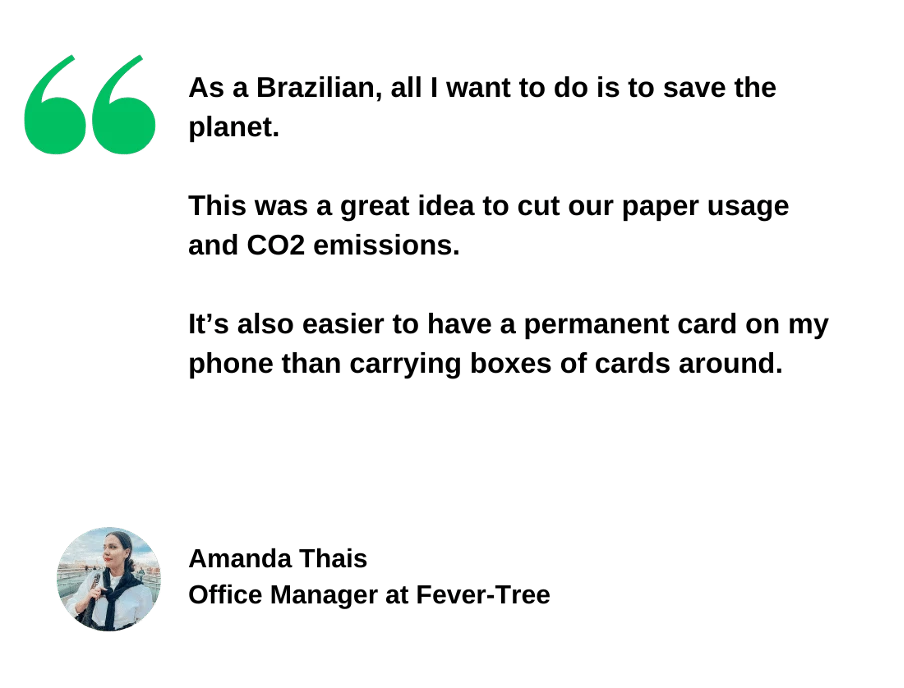 Different types of digital business cards on the market
You've heard a lot about Doorway's cards already and that app-based cards come with some pitfalls. But are there any other digital business card types to be aware of?

Yes. App-based cards and Digital Wallet cards (like Doorway) actually fall under one umbrella. They're both QR code digital business cards. Alongside QR code cards, there are NFC cards and web-based cards.
You can choose the best digital business card type for you and your employees by understanding each card's strengths and weaknesses.
Scroll on to find out more (or if you're not interested, scroll past to find out how to get started with Doorway).
QR code digital business cards
A QR code digital business card is exactly what it sounds like—a digital business card that has a QR code.
The QR code contains all of the relevant contact information for the card owner, including their name, company name, job title, email address, phone number, and website.
To use a QR code digital business card, the recipient needs to scan the code with their smartphone's camera. This will bring up the contact information in a digital format, which the recipient can then save to their phone's contacts or use to connect with the card owner via email or phone.
Both app-based cards and digital wallet-based cards rely on QR codes to transfer contact details.
Many digital business card solutions use soft-coded QR codes but Doorway is one of the only to use hard-coded ones. Hard-coded cards offer greater security over your data.
Pros
Eco-friendly, sustainable option
Cost-effective compared to physical cards
Easily update cards and add new users
Fast, effective networking
Some providers integrate into HR software
Cons
Confusing, if your target audience is not tech-savvy
Soft-coded QR codes have security issues
Some people may prefer physical cards
NFC cards
Near field communication (NFC) cards are a type of digital business card that transmits contact information between two devices that are in close proximity to each other.
They're sometimes called electronic business cards because they're physical cards with chips inside that electronically communicate with your smartphone.
Employees only need one card rather than hundreds or thousands and they slot nicely into your wallet or bag. This electronic business card is great if you like the look and feel of a business card but hate the waste involved with using a physical business card.
You have many options when it comes to choosing an NFC digital business card maker but one of our favorites is V1CE.
Pros
Multiple card materials are available
Can customize the card to your brand
Can direct traffic to social media profiles, landing pages, booking links, and more
Cons
Not as sustainable as true digital business cards
Need to order new cards for new hires
Reliant on internet service
Web-based digital business cards
Web-based digital business cards are more like virtual business cards because they only exist online.
Think of tools like Linktr.ee where you can direct people to various web destinations from one link.
You can put them in social media profiles, on websites, in emails, in calendar invites, and more. Where you send your new contact is up to you but we recommend landing pages with special offers, pricing pages, features pages, and a booking calendar.
Pros
Great for networking online and over video calls
Can be distributed in multiple places (socials, website, email, calendar invites, etc.)
Eco-friendly
Cons
Hard to use when networking face-to-face
Won't work without internet service
Isn't truly a digital business card
Getting set up with Doorway's Digital Business Cards: Effective, eco-friendly, secure, and savvy
Getting set up with a Doorway Digital Business Card for your Digital Wallet is quick and easy.
Once you speak to our team about your needs and select a plan, you'll be onboarded onto the Doorway system.
You'll create your company's account and be able to upload a CSV file with all of your employee's contact information or if you have an Enterprise package, you can integrate your HR software into our platform.
Either way, you'll be able to create digital business cards for everyone who needs one in minutes.
From there, your employees receive an email with their brand new card that they download to their Apple Wallet or Google Pay.
You're able to update contact details and add or remove users from Doorway through your HR integration or directly in the admin portal.
The best part is, your data is completely secure. We take security as seriously as you do, which is why we're SOC2 certified.
If you're looking for a digital business card solution that keeps employee and company data secure then you should avoid app-based cards, NFC cards, or anything with soft-coded QR codes.
Check out below why Overton-Moore Properties took their networking digital with Doorway:
Open more doors with Doorway and network your way to new business
With Doorway, you can create beautiful digital business cards customized to your brand and logo, while moving toward more sustainable and cost-effective business practices.
If you want to get started with networking that makes it easy for new contacts to get in touch, speak to one of our product experts.
Common Questions People Also Ask (PAA):
What is a digital business card?
A digital business card is a card that shares your professional contact details through the use of digital technology such as a QR code.
How do digital business cards work?
A digital business card works by scanning its QR code and transmitting the data to another's phone. Most smartphones can read QR codes through their camera app.
Can I create a digital business card without an app?
Yes! You can create a digital business card without an app. Doorway's Digital Business Cards are app-free. Instead, they live in your Digital Wallet.
Are digital business cards eco-friendly?
A digital business card is incredibly eco-friendly. They require no paper, ink, or other materials and create zero waste.
What are the benefits of using a digital business card?
The benefits of using a digital business card include being eco-friendly, cost-effective, and easy to use and distribute.
How do I share a digital business card with someone who doesn't have a smartphone?
You can't share a digital business card with someone who doesn't have a smartphone. Instead, you'll need to enter your contact information manually into their phone or send it to them over email or another communication tool.
What is the difference between a QR code and an NFC tag?
A QR code is scanned by a smartphone camera while an NFC tag electronically transmits the information to your phone through a chip.
How much does it cost to create a digital business card?
Digital business card pricing ranges by provider but at Doorway, we offer tiered pricing starting from $20 a month for up to 20 custom cards.