Digital business cards are taking the market by storm. How can you choose your vendor? See this list of the 11 best providers.
Digital business cards are more convenient, sustainable, and efficient for sharing our contact information than their paper predecessors.
But with several digital business card solutions available, it's difficult to know which one suits your business's networking needs best.
To help you come to the right conclusion, we've put together a list of the top 11 digital business cards on the market, including their key features, pricing, best use cases, and where they fall short.
And at the end, we'll tell you what factors to consider when making your final choice.
First up, the top three.
The 3 best digital business cards on the market
When making this list, three contenders stood out: V1CE, HiHello, and Doorway.
They each offer distinct versions of the digital business card and between the three of them, buyers can find what they're looking for—whether that's cards for B2B businesses, D2C businesses, or for individual use.
V1CE: NFC Electronic Business Card
V1CE was a trailblazer in the world of digital business cards. They were the first to bring one to market, and that's worth a gold star.

Their NFC electronic business cards offer a sleek, credit card-like look and feel that can easily fit in your wallet, pocket, or purse.
To share contact details you place your V1CE card next to someone's smartphone.
The card triggers a link to pop up on the phone and takes your new connection to a website that lists your basic contact details. It's worth noting that they'll need internet service to access your details.
Key Features
Choice of card material: bamboo, plastic, and metal
Customization of your card's design
Tap and share functionality
Bulk creation feature for businesses or groups
Pricing
Their prices start at a staggering $50 per card. There are, however, discounts available for bulk orders.
Who are they best for?
V1CE is the best electronic business card on the market for individuals who want a physical business card with digital capabilities and a polished design. They'd be great for freelancers and small teams with very little turnover or new hires. Otherwise, the cost of ordering new cards could pile up.
Where V1CE's Digital Business Card falls short
V1Ce isn't the most cost-effective or sustainable solution on the market.
While it's less wasteful than hundreds of paper business cards per employee, the cards still have a chance of ending up in a landfill.
Plus, you have to go through the process of ordering new cards whenever someone new is hired.
Check V1CE out here: https://v1ce.co/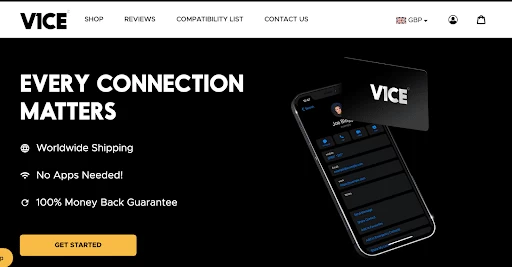 HiHello: The Business Card App
HiHello is a digital business card app that allows you to create and share contact information via a QR code. People scan the QR code and get taken to a website URL where they can access your details.
You can also transfer your information to them over text, social media messages, email, and other communication platforms from the app.
Key Features
Their app is required for cardholder use
Card details can include a photo, social media links, and a map of your location
Business card scanner functionality (to collect other people's information!)
Card customization
Pricing
Their app is free for 1 user but this option comes with limited features.
Their Professional plan is $6 per month for one user while their Business plan is $5 per user for 5+ users. They also offer a custom-priced Enterprise plan for companies with 100+ users.
Who are they best for?
HiHello is a great option for freelancers and individuals because it's free for them to use.
As long as you don't mind limited features and having to download an app, you'll be able to share your contact information far and wide!
Where HiHello's Digital Business Card App falls short
HiHello is an app and because of that, it requires an internet connection.

The app and URL that hosts your and your employees' contact details won't pass enterprise-grade information security protocols. This can be an issue for corporations looking to equip their teams with digital cards.

It also takes up storage space in your phone.
On top of this, you may be reluctant to have employees download and use an app that doesn't reflect company branding.

And your employees might not take the time to download it anyway. Adoption rates of digital business cards are much higher when companies give a card rather than tell their teams to download yet another app to their phone.
Check HiHello out here: https://www.hihello.me/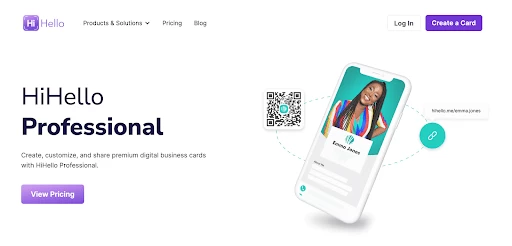 Doorway: Built for your Apple Wallet & Google Pay
Not everyone wants to carry a physical business card with them or to have yet another app on their phone.
Doorway has designed a card that lives in your digital wallet (Apple Wallet & Google Pay) and is accessible as long as you have your phone on you. And let's be honest, when don't you have your phone these days?

When someone scans the QR code on your digital business card, your details immediately transfer to their phone as a new contact with name, phone number, email, website, and more included. And you don't need an internet connection to use it.
From there, you can reconnect to collaborate, chat, or close a deal.
Doorway is designed with businesses in mind. So its functionality and integrations cater to the needs of businesses ranging from startups to multinational enterprises.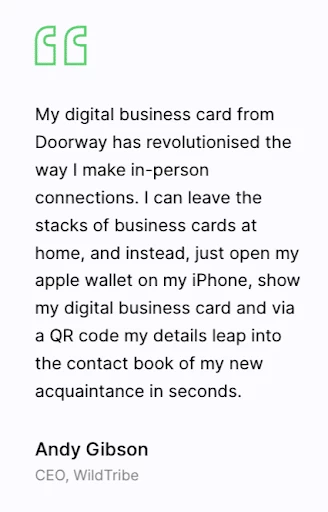 Key Features
B2B client focused
No internet required
Lives in your digital wallet—Apple Wallet & Google Pay
App-free access to your contact details
Integrates into HR software
Customization of card design, updated for all employees from an admin account
Data Encryption (SOC2 certified)
Analytics for understanding card use
Share digital business cards with as many contacts as you like
Pricing
As a pure B2B solution, Doorway's tiered pricing model reflects the features and functionality that different businesses will need.
The most popular option is Doorway's Professional Tier, which is priced at $150 per 300 digital business cards.
If you want to find out more information, head to the pricing page where each tier is broken down for you.
Who is Doorway best for?
Businesses!
The functionality and design of Doorway's digital business cards make them ideal for B2B and D2C businesses.
Not only can the cards be customized to your company's brand but the administrative capabilities of the Doorway system allow you to integrate it with your HR management software and manage your employees' details from one place.
That means you can automate card creation for the whole business, for specific teams, and whenever a new employee joins.
Designated employees will instantly receive an email to save their digital business card to their digital wallet. No app download and no physical business card needed.
Plus, you'll know your business information is secure thanks to Doorway's SOC2 certification.
Where do they fall short?
Doorway's card is designed for corporate use. Individual users might prefer the fun interactive functionality an app can provide.
The Doorway platform is built for seamless card distribution and to elevate a client's corporate identity.
Check Doorway out here: https://www.doorway.io/
What is a digital business card?
Pause! We jumped right into the good stuff without explaining what a digital business card is.
Digital business cards (sometimes called virtual business cards or electronic business cards) transfer your contact details directly to another person's phone.
They allow you to network, contact-free. And after the COVID-19 pandemic, networking is safer that way.
There are three main types of digital business cards:
Digital wallet cards – accessible to anyone with a smartphone
NFC (near-field communication) cards – physical cards that can be read by smartphones
Digital business card apps – use is limited to a cardholder's specific app
Digital Wallet Business Cards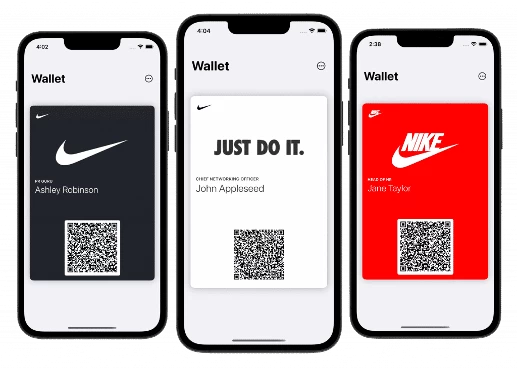 Digital wallet business cards are stored in your Apple Wallet or Google Pay.
It's a popular option for businesses because it's the simplest – no app download and no physical card needed.
Digital wallet business cards are also safer than other solutions. Your contact details are only shared when your card's QR code is scanned. They're then transferred directly to the other person's phone. Other providers store your basic contact information on the internet which is available to anyone with the link.
NFC Business Cards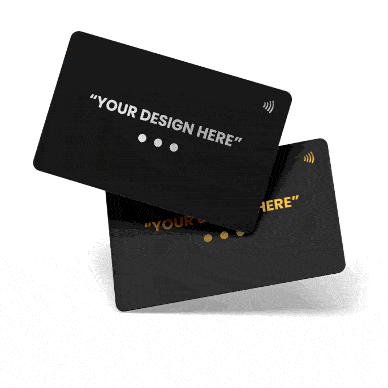 Usually made of plastic, metal, or bamboo, this digital business card solution uses NFC technology. There's a chip inside the card that connects with someone's smartphone.
When you place the card close to their phone, they will be directed to a website link that hosts your contact details.
But are NFC's truly digital business cards? Most would say no.
NFC digital business cards still take physical form. And for that reason, they're often referred to as electronic business cards.
It's worth noting that NFC cards can pose a security risk. Whoever has your link can see your personal contact information online (email, phone number, and more). So use them with caution.
Digital Business Card Apps
Digital business card apps can be downloaded to your phone and then used to host your contact details.

Usually, your card in the app will have a QR code that others can scan with their phone camera. Most will also have the option to send your details over text or email directly from the app.
Because they're app-based, customization is limited.
How are people using digital business cards?
Like traditional business cards, digital business cards are the authorized link between you and your company—a credential given to you by your team to show the world that you mean business when you network.
They're there to build professional relationships. But that's where the similarities end.
With most digital business card providers, you can include more information than just your name, title, company, email, and phone number. People add links to their social media profiles, company website, and calendar booking pages for more efficient and effective networking.
Some digital cards can even track engagement with your contact details. So, if you want to know if potential clients click through to the website, you can see for yourself.
Now that we've got that out of the way, let's get back to what you're here for—the other 8 best digital business cards on our list.
8 other digital business cards worth considering
Blinq: NFC Business Card & Digital Business Card App
Blinq offers both a virtual business card app and NFC electronic business card. You can choose the option that works best for you or even get both.
Their app is very similar to HiHello's and comes in at a few dollars cheaper per user. They also boast the fastest load time of app-based digital business cards.
Key Features
App download required for cardholder
Card templates with some customization features
Integrations available for systems such as Zapier, Salesforce, and Hubspot
Use of card as a virtual meeting background
Pricing
Their app-based cards are priced at a very reasonable $2.99 per card, per month. Their NFC cards start at $14.
Who are they best for?
Blinq is the best digital business card for people who want the functionality of HiHello without the high price tag.
It's also great if you want both an app-based card and a physical business card in your possession.
Where Blinq falls short
You'll need to download the app to your phone to use your card. Alternatively, if you have their NFC card, you'll need to rely on having internet access.
Check Blinq out here: https://blinq.me/
Mobilo: NFC Business Card
Mobilo offers NFC electronic business cards, as well as key fobs and buttons for the back of your mobile device. All three can share your contact details.
They're less sustainable than other digital business card providers because of their wide range of physical products. That said, some want their card to exist outside of their phone.
Key Features
App free
Tap to share – with a single tap your new contact has your details
Engagement tracking in their dashboard
CRM integrations
Some customization capabilities such as adding a company logo and color
Pricing
Their pricing starts at $4.99 for a single user. Teams pay an annual fee plus the cost of each digital business card.
Who are they best for?
Mobilo is a great option for those who want to have a button attached to their phone or something attached to their keys.
Where Mobilo falls short
Unfortunately, Mobilo doesn't offer a free trial or a free version for individuals. If this is important to you, several other providers on this list do.
Check Mobilo out here: https://www.mobilocard.com/
Linq: NFC Business Card & App
No, that's not a typo! This digital business card solution is separate from Blinq. But they're not without similarities. Linq is also an NFC card.
Linq's NFC electronic business card and app connect you to a landing page that you can customize. What's more, you can purchase other items like event badges with your QR code printed on them.
Key Features
Physical NFC card and app
Integrates with CMS
Custom landing page
You can link to videos and embed music
Pricing
Custom products start at $30. The app can be downloaded for free or for their premium package of $5 a month. They have an option for teams but pricing is unclear.
Who are they best for?
If you go to events throughout the year it may be easier to use one of Linq's custom badges. They are hands-free and people can scan them to collect your details as you work the room.

It's also popular among creatives because they can use the landing page to display portfolios of their work.
Where Linq falls short
Like the other NFCs on our list, Linq's product isn't as sustainable.
Check Linq out here: https://buy.linqapp.com/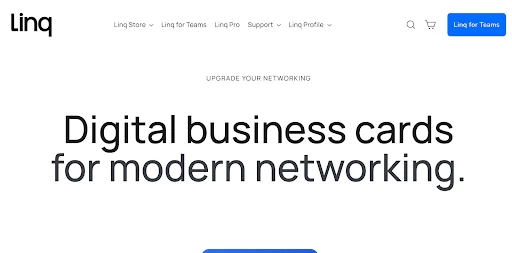 Haystack: Digital Business Card App
Haystack claims to be the largest digital business card solution on the market. So they must be doing something right!
Their product is touch-free and paper-free like many of the other providers on this list. The app has an easy-to-use dashboard for tracking engagement and card use across teams.
Key Features
Virtual business card app
Integrates with your systems to automate who gets cards
Analytics track who views your card
SOC2 compliant
Pricing
Haystack is free for individuals and costs about $4.95 per month for teams. Keep in mind that each card is charged on top of that at $27.50 per year.
Who are they best for?
Haystack makes it easy to share contact information over video calls too. It's a great option for people who regularly network over Zoom, Google Meet, or similar video tools.
Where Haystack falls short
It can be hard to navigate Haystack's pricing packages. On one page it says they offer company packages for companies with 2-200 employees and enterprise packages for 1000+.
So it's unclear if they have an offering for businesses between 200-1000 employees.
Check Haystack out here: https://thehaystackapp.com/
Beaconstac: Digital Wallet Business Card
Beaconstac offers digital business cards and creates QR codes you place in your email signature, in a resume, or printed on paper products like brochures and leaflets. Either option lets you share your contact details in just a few taps.
Key Features
QR code generator
Bulk creation
4000+ integrations
API Access
Pricing
Beaconstac's pricing starts at $8 for 1 user. Its most popular plan is $49 monthly for 250 cards.
Who are they best for?
This is the best digital business card for tracking analytics because they integrate with over 4000 tools.
Where Beaconstac falls short
They're first and foremost a QR code generator rather than a digital business card maker. Companies may want to choose a provider who focuses and executes on one service efficiently.
Check Beaconstac out here: https://www.beaconstac.com/
Knowee: Digital Card App
Knowee refers to their product as digital credentials. They're based in Spain so the change in name from business card to credentials may be a result of translation.
They're an app that hosts QR codes and hyperlinks for networking.
Key Features
37+ templates for your business card design
Add your company logo
Track analytics
Zero ads
Pricing
Knowee is free forever for individuals and freelancers. For businesses, they charge €2.49 per user, per month. As the pricing is in Euros, you'll need to check if they serve clients outside of Europe and convert pricing to your currency.
Who are they best for?
This is a great option for Spain-based businesses and individuals.
Where Knowee falls short
Unfortunately, if you want to create digital business cards en masse you'll need to pay for their custom Enterprise pricing. And we'd understand if you didn't want to pay for their premium package when you can choose many of the others on this list without paying enterprise fees.
Check Knowee out here: https://www.know.ee/
eVaunt: Web-based Virtual Business Card
EVaunt is less a digital business card and more a landing page functioning as a digital business card.
It's not the greatest for usability but it will get the job done if you don't mind pulling up the webpage on your phone (that's what digital bookmarks are for, right?).
We'd only recommend this option if you're unwilling to pay for digital business cards but still want to avoid using traditional business cards.
Key Features
Hosts your contact details on a webpage
Email and message capabilities for automated transfer of basic contact details
Pricing
EVaunt is completely free for any number of users.
Who are they best for?
This digital business card solution is a good option if you don't have the budget to spend and you don't mind the lack of features.
Where EVaunt falls short
Their website is very simple with limited details on their product which makes it hard to find out if this is something you or your team would want to use.
Check eVaunt out here: https://www.evaunt.com/
QR Code Generator Pro: DIY Digital Business Card Creator
Bitly, the renowned URL shortener, is the brand behind QR Code Generator Pro.
They enable you to create unique QR codes that you can download and print onto a business card or add to virtual marketing assets. So users become their own digital business card makers.
Key Features
Generate unique QR codes
Bulk creation from CSV uploads for some packages
Pricing
They bill monthly and offer tiered packages: starter, advanced, and professional.
Which one you choose is based on how many QR codes you need to generate, how many users you'll have, and if you want to create them in bulk from a CSV file or do it manually.
Who are they best for?
This option is best for do-it-yourselfers who don't mind taking the extra steps to get from QR generated to an electronic card in hand.
Where QR Code Generator Pro falls short
Their process of creating a digital business card is incredibly manual even if you pay for their top-tier package. Other options on the digital business card market will be easier to manage.
Check QR Code Generator Pro out here: https://www.qr-code-generator.com/pricing/
How to choose the card that's right for you
You have your options before you, but how do you choose?
Here are a few key factors to consider when making your choice:
Business vs Individual use
Ease of use
Integration capabilities
Customization features
Sustainability
Analytics & tracking
Customer support
Number of users you'll need to support
Cost & pricing model
Let's dig deeper into each consideration.
Business vs individual use
The first consideration you should make is who your digital business card is for.
Are you an individual freelancer? Do you want the card for yourself or do you need dozens to hundreds of cards for your company?
The functionality you look for will be different depending on your answer.
Ease of use
How easy will it be for you to implement this provider into your business? Will your employees actually use the card?

NFC cards and digital wallet cards ensure easy adoption because employees don't need to download an app to set up an account. They simply receive the card, ready to use
And how easy will it be to use the product once you have it?
These are important factors to consider when purchasing a digital business card.
You want a solution that is solving something for you, rather than adding hassle and admin.
Think about the user experience from your side and the side of those you're networking with. Do you or they need a special app? Are you still able to share your details if you're struggling to find a phone signal?
Are details easy to update and can you add new users with ease?
Ask yourself these questions as you determine what digital card is right for you.
Integration capabilities
For businesses larger than 20 people, it's crucial the tools brought into the business sync with the ones they have already.
Integrations to look out for are HR software, sales software, and digital calendars.
The right integrations can save you hours and they can make measuring the effectiveness of your networking easier. Think about how much time you could save by automatically transferring employee details and spinning up digital business cards that your people can use instantly.
Customization features
An important part of having a business card is showing off your brand and leaving an impression on whoever you exchange details with.
That's why you'll want to choose a digital card provider who allows you to customize not just the details of your card, but the look.
Adding your logo and brand colors gives you social currency in the networking world and allows your people to confidently engage with prospective clients.
The problem with NFC cards and app-based cards is that they limit the amount of company branding you can have on your card. There will always be an element of the card provider's branding competing with your own.

Only digital wallet cards are 100% branded for the business, functioning as branding tools for corporate marketing teams.
A card that shows the digital business card providers branding instead of yours will never have the same effect.
Analytics and tracking
Are you interested in tracking the use of your employee's cards and seeing how prospects interact with your details?
If you can have access to this type of information you can test, learn, and improve how you network and interact with clients and prospects.
Some digital business cards have analytics dashboards that show who viewed your details, when, and what details specifically. Others integrate with CRMs so that you can see how people have engaged and moved through your marketing and sales cycle.
Cost
Different digital business card providers have different pricing models. Some may be better than others for how you plan to use and distribute cards to your employees.

If you're a freelancer or small business owner, you may want a free, low-cost app or a one-off fee for a card.
But per-card pricing can become expensive for businesses, especially as they scale.

Mid to large-sized businesses prefer providers who have flexible monthly tier pricing that's based on the number of cards provided and the features.

What's best for you depends on how you want to use the cards and how many you'll need.
Sustainability
One of the perks of going digital isn't for us, it's for the planet. But digital business cards range in how sustainable they are.
If sustainability is an important factor for you then you'll want to pay attention to which provider you choose. NFC card providers are still producing waste.
On the other side of the spectrum are providers like Doorway who minimize their environmental impact and partner with tree-nation to plant trees on behalf of their clients.
Create digital business cards for your employees with Doorway
Doorway offers digital business cards that are easy to access and effortless to use.

You and your employees can nurture and expand your network as long as you have your phone on you, with or without internet access.
If you want to learn more about how Doorway can help you do business better, get in touch here.