No matter what the situation, we've come up with 15 ways you can give your business cards a new lease on life. Because the last thing you want is to throw them away.
Is my business card even recyclable?
It depends on the production process used to make them.
In most cases, recycling business cards made from paper or cardstock is easy; you only have to pop them into your household recycling bin or take them to a nearby recycling center.
However, if your business card contains aluminum, wax, paint, or grease (these components are considered to be contaminants) then the recycling center may turn them away. If that's the case you'll be unable to recycle them.
A telltale sign of these contaminants is if your business card is glossy or has a plastic or polymer coating. Unfortunately, these materials aren't recyclable and they're not biodegradable. If you still use paper cards, it's worth considering this as and when you replace them. Or save yourself and the environment the hassle by going digital.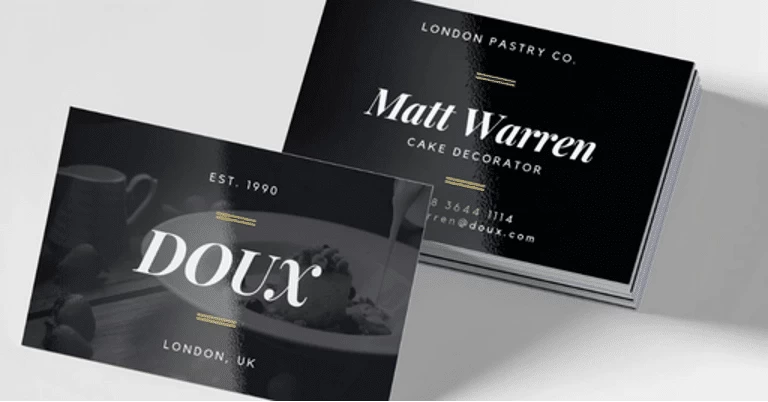 Image source
Even if your old business cards can't be recycled, there are other ways to put them to good use and save the environment from further waste.
So, what to do with all these cards?
We've put together some creative and practical eco friendly ideas to breathe new life into your old business cards.
1. Make bookmarks
Love reading but hate folding down pages? You can recycle your old business cards by turning them into bookmarks. Just fold the cards in half and cut a triangle in the center at the fold. Open the card back up. They can now be slotted over your page to save your space! If you want to get creative, you can paint the card with patterns and words.
2. Make guitar picks
Who would've thought you could recycle old business cards into guitar picks? Grab yourself a pick punch (think a hole punch but in the shape of a plectrum) to create your guitar picks instead of buying a plastic pick—much better for the environment.
3. Make office labels
If your old business card has a plain back, you can easily repurpose it into a label. Write on the back and attach the business card to your filing cabinet, folders, or storage boxes for an eco friendly alternative to buying new ones.
4. Create gift tags
Add a personal touch to any occasion by turning your old business cards into unique gift tags. Simply wrap a business card in paper or gift wrap (a great way to recycle old paper) or leave your company logo visible, cut the card into any shape, punch a hole in the top, thread some ribbon through, and et voila! Your tags are ready to be attached to any gift.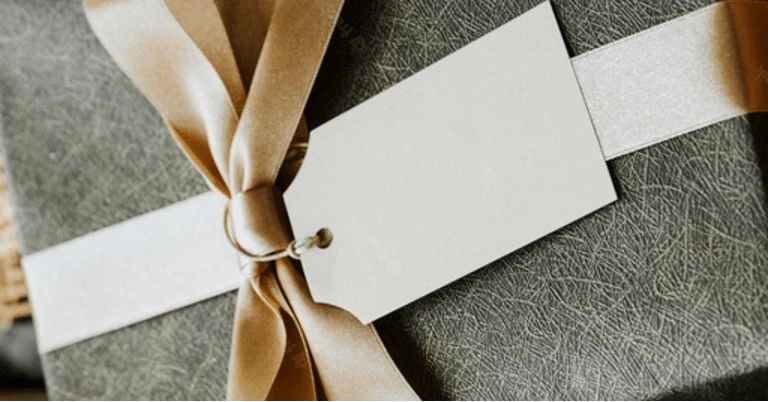 5. Design home labels
Life is much better with an organised home, and one of the best ways to sort your space is by using labels. Just like the tags above, you can write or print on the backs of your old business cards, but you can also wrap them in some coloured card or wallpaper that matches your decor and then print your label on top. Tidy house, tidy mind.
6. Try mini origami
Making origami has been proven to ease stress and improve concentration. Recycle your business card into mini origami with these steps:
Mini origami stars
You will need: Four old business cards
Step 1 – Fold one card in half to make a crease and then unfold it
Step 2 – Fold half of the top edge down to create a crease in the center
Step 3 – Fold the other top half to meet the same crease
Step 4 – Fold it in half again and cut along the first crease you created in step 1
Repeat this on four more business cards and slot them into each other using the two small edges as tabs.
If stars aren't your style, you can discover more business card origami inspiration.
7. Create decorations
Why stop there? You can make multiple origami stars and turn them into decorations. Once you've made them, punch a small hole in the top of each star and thread some ribbon through. When you've added as many stars as you like, your eco friendly garland decoration can take pride of place in your home or office.
Image source
8. Make a phone stand
For business cards made from plastic, you can recycle old ones by creating a useful phone stand. Simply follow these steps. Once you've made it you can watch videos or take Zoom calls withough having to hold your phone still.
9. Make a headphone holder
Who would've thought you could turn an unused business card into something as handy as this headphone holder? Bear in mind, though; this one will probably work better with thicker quality business cards made from plastic.
10. Make a collage
Are you feeling creative? The good news is that old business cards make excellent craft materials. You can cut up your old ones and sort them into different colours to create a collage, print a new design over the top or even stick them together and arrange them into different shapes to create fun wall art for your office or home.
11. Make cue cards
Cue cards come in handy during meetings or presentations, and you can make your own by covering old business cards with blank or lined paper, punching a hole through the top corner and securing them with a binder ring.
You can also do this to create flashcards and mini notebooks, too!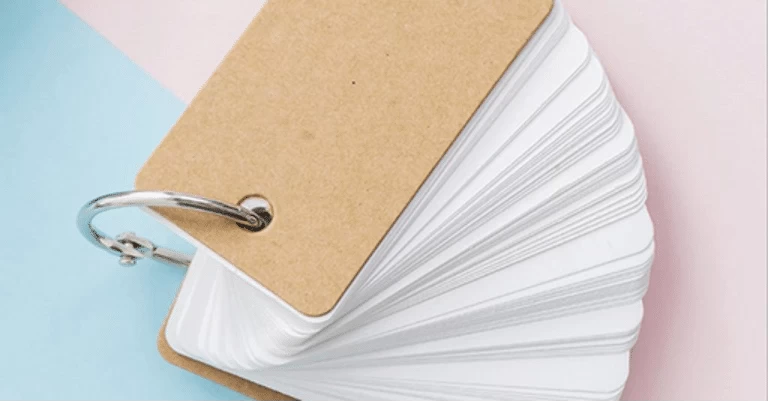 12. Turn them into new business cards
If you've changed your company branding or logo and your current cards are outdated, don't worry; you can still use them to make brand-new business cards. Just paint over the card (or cover it with paper) and print or stamp your new logo and information over the top—a more eco friendly solution to ordering new cards that will save lots of packaging waste.
13. Create a desk organiser
Organise your office by turning unwanted business cards into desk storage for papers, post-it notes and pens (or maybe even boxes for your new business cards). All you have to do is arrange the old business cards into a box shape, using as many cards as you need depending on the shape and size of the box you want to create. Then, glue or tape the cards together, and there you have it. You've now got an organised desk and helped the environment in the process.
Make placemats
You can turn your business cards into unique placemats for your next function. There's no right or wrong way to create them; you can use materials and papers matching your color scheme. Cover or paint the cards and print or write your guests' names.
Make a mini photo book
We love this mini photo book gift idea, and you can replicate this craft with your old cards instead of using scrapbook paper. Here's how:
1. The first thing you need to do is paint or cover each business card using colourful scrapbook paper.
2. Fold the horizontal edge of 2 cards about 1cm of the way in and attach them together using glue or double-sided tape.
3. Repeat these steps with as many business cards as you like (the more you use, the bigger your book will be). Now your cards should be taking a concertina shape.
4. Choose your favourite photos and stick them to each page of the 'book'.
5. Add the finishing touches by printing a message on the front and tying it together with a ribbon.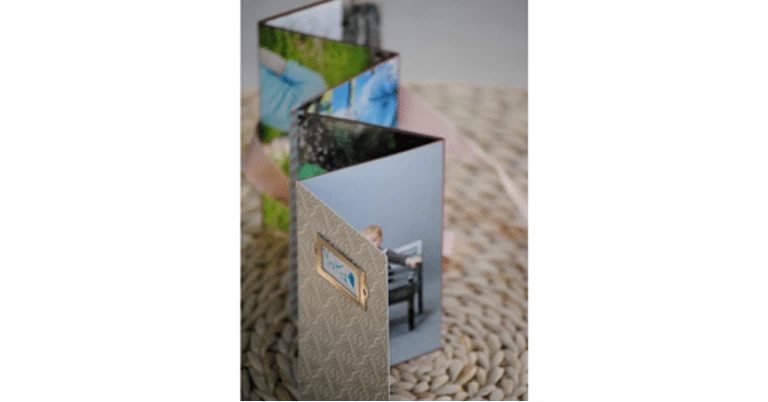 We hope you enjoy showing the world some love with these environment-saving ways of recycling your business card. If you make any, remember to tag us in your creations on Instagram @getdoorway.
Never waste a business card again with Doorway
If you're tired of finding ways to repurpose your old business cards you can switch to Doorway. Doorway digital business cards allow you and your employees to share personal and company information straight to anyone's Apple Wallet and Google Pay, making them an eco-friendly solution that doesn't require any packaging or paper waste. We also plant trees for every month that you're subscribed!
To find out how Doorway can elevate your business's networking contact us today.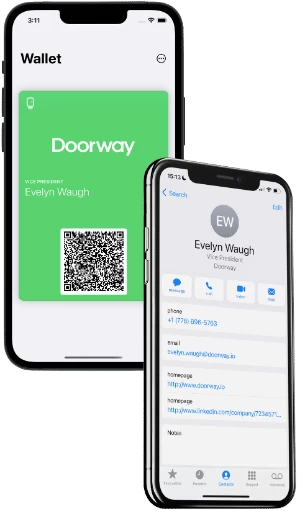 FAQs
How do you dispose of business cards?
If your company business card is made from paper or card, it can be put in the recycling bin or taken to your local recycling bank.
Are glossy business cards recyclable?
If your business card is glossy, most recycling companies can remove this coating during the recycling process. However, if the business cards contain a plastic or polymer coating, they might not be accepted.
Why can't my business card be recycled?
Your business cards might not be accepted at recycling centers if they contain aluminium, wax, paint, or grease as these are contaminants. This might be the case if it's glossy.
Do people throw away business cards?
Yes, a staggering 88% of business cards get thrown away within a week so it's time to think of an eco friendly digital alternative like Doorway.
Are business cards biodegradable?
Only business cards made from paper are biodegradable. If your old cards contain plastic, they can't be broken down and, therefore won't biodegrade.
How long does it take business cards to biodegrade?
Usually, around six weeks