With the threat of climate change and environmental degradation hanging over the planet and our minds, it's important for consumers to choose sustainable and green alternatives to traditionally polluting products. To make this easier for you, we've brought together the definite list of the best environmentally-friendly business cards available for corporate or personal use. We've broken each option down and done the legwork to see how far both your investment goes and how sustainable the option is in the long-term. To give you a little sneak peek, we've found that the best eco-friendly business cards come from Doorway at number one, Moo at number two and then finally V1CE.
Coming in at #1: Doorway
Known as being a leader in the digital business card space, Doorway's technology lives in your Apple Wallet or Google Pay so it can uniquely function without internet or external app download. This makes it the most sustainable option as it's paper-less, preventing anything from going in the landfill. Doorway completely eliminates the cost, fuss and waste associated with having to order and reorder cards for new hires as your business scales. This streamlined system makes it the ideal business card for companies looking to promote their brand identity while scaling their company in the most efficient way possible.
Cost: Doorway is a B2B solution thus its tiered pricing reflects the needs of different corporations. Doorway's Professional Tier is the most popular option, with prices starting at $150 per 300 business cards.
Pros:
No internet required
No external app download required
Focused on B2B clients
SOC2 certified, so your data is always secure
Complete customization with professional graphics
Centralized on an admin account for easy updates
Efficient to scale
Integrates seamlessly into HR software
Easy distribution across your organization
Analytics available to understand card use
Great impression on your client
Cons:
Since it's geared towards corporations, individual users might prefer a print or app-based card
#2: Moo
Moo offers high-quality, customizable business cards made from recyclable materials. Since the templates are printed on their cards with vegetable-based inks, they are less harmful to the environment than traditional ink. Customers can choose cards made from recyclable cotton linters, this material makes the cards naturally bright white forgoing the need for bleaching. They use eco-friendly packaging to ship their products and are a certified B Corporation.
Cost: $30 for 50 cards, larger bulk single-orders receive a slight discount. No cost-efficiency when scaling as a whole new set of cards have to be ordered for every new hire, high maintenance cost as well.
Pros:
High-quality customizable cards
Use recycled paper and vegetable-based inks
Eco-friendly packaging
Certified B Corporation
Cons:
More expensive than other options
Difficult to scale
Expensive to maintain
Cards still produce waste and can end up in landfills
While vegetable-based ink is better, it's still not great for the environment
Releasing emissions when shipping physical product
#3: V1CE
V1CE is a NFC business card company, an interesting idea which marries together physical cards with digital. Customers purchase one physical NFC card which can then be tapped onto client's phones to transfer their details. They offer an environmentally-friendly option made from bamboo, a great recyclable material, and they also promise to plant a tree with every bamboo card bought. It's important to note that functionality might be limited depending on your phone's internet connection.
Cost: A single card is priced at $51. This makes it incredibly difficult for a company to scale and add on new employees.
Pros:
Made from eco-friendly bamboo
Dedicated to planting a tree per purchase
Sleek credit-card look
Customizable design
Easy transfer to client's phone
Cons:
Requires internet connection
Difficult to scale
Emissions from shipping physical card
Expensive compared to other companies
Cards might still end up in landfill
Physical cards are liable to be lost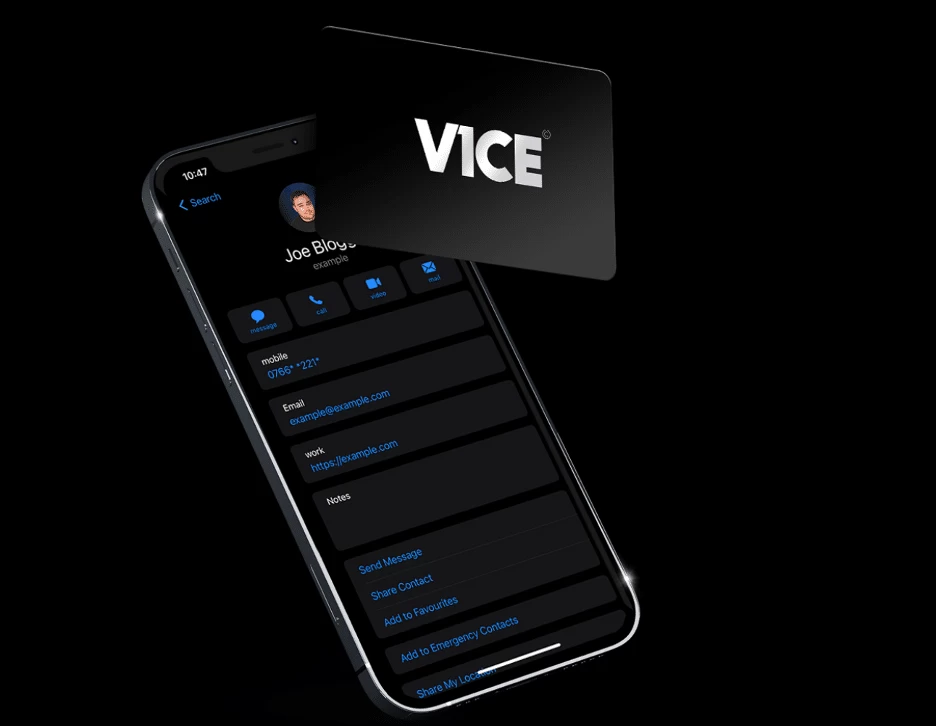 #4: Greenerprinter
Greenerprinter is an eco-friendly printing company based in San Francisco. They offer a selection of products, primarily business cards. They use 100% post-consumer reused paper, soy-based inks, and have a carbon offset program to reduce their carbon footprint. They offer a variety of customisations including rounded corners and white ink to make the most professional-looking, recycled business cards around. Their website also provides a carbon calculator to estimate the carbon footprint of your order.
Cost: It varies depending on type and quantity of business card but for reference it's $69.07 for 250 cards made with a recycled uncoated finish, making it quite expensive to scale.
Pros:
Use 100% post-consumer recycled papers
Use soy-based inks
Have a carbon offset program
Transparent shipping process with a carbon calculator
Highly-customizable
High-quality printing process
Cons:
Purely physical card, no digital features
Less efficient in handing out contact details
Liable to lose the cards
Cards might still end up in a landfill
Higher price compared to other options
Very difficult to scale
No analytics on card usage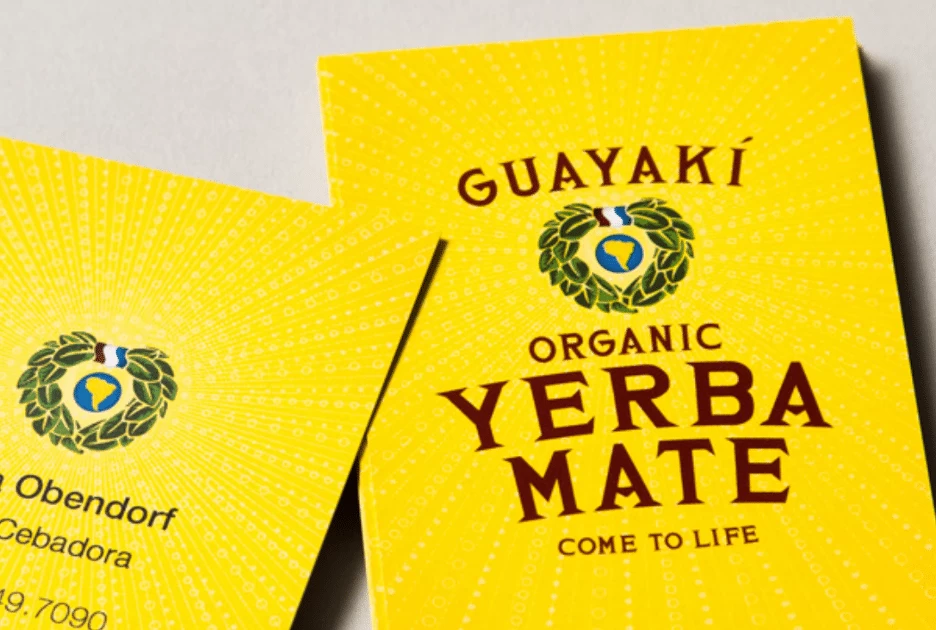 #5: VistaPrint
Vistaprint is a well-known online printing company that offers a recycled option of eco-friendly business cards. They offer a range of eco friendly paper types from hemp blend to 100% post-consumer recycled paper, as well as vegetable-based inks. The cards are highly-customisable, allowing you to put qr codes, company logos, website urls, as much detail as you like.
Cost: While cost varies depending on the type of card you select, 100 of the hemp-blend business cards cost the customer approximately $29 (not including shipping). Since they're physical cards, new sets need to be purchased as well as reordered routinely as employees run out of cards.
Pros:
Large selection of recycled materials
Affordable
High-quality printing
Highly-customizable
Cons:
Shipping materials are not eco-friendly
Shipping times can run long
Cards still run the risk of ending up in a landfill
Difficult to manage, distribute and scale
Cards are liable to be lost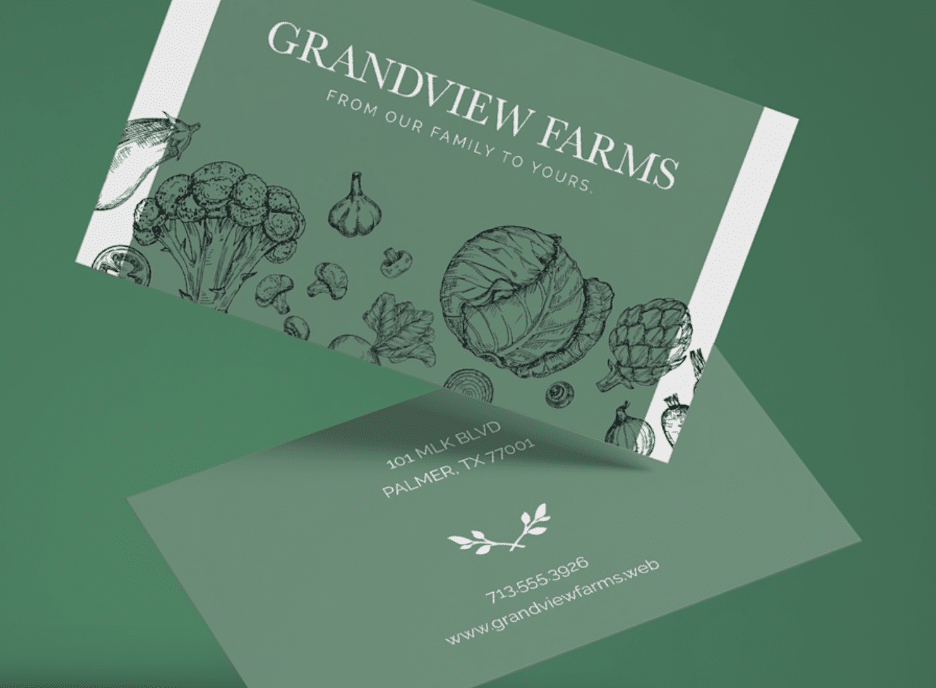 #6 HiHello
HiHello is a digital business card app that can store and share contact details as well as update one's address book, as long as your phone has an internet connection. Since it's an app and not a physical business card it's a great eco-friendly alternative, removing the possibility of creating more pollution as well as the potential carbon emissions from shipping & transport. They also offer NFC business cards, similar to V1CE, if that's your thing. However, they don't have any plant-a-tree program such as the one Doorway has.
Cost: A limited version of the app is free for a single user. Their professional plan starts at $6 a month for a single user while they're business plan begins at $5 a month per user for 5+ users.
Pros:
No shipping thus no carbon emissions
No cards ending up in the landfill
Affordable if you're a freelancer or individual
Easy to manage
Offer NFC cards too
Cons:
Won't work without internet
No ecological offset program, such as plant a tree
Takes up phone's storage space
Low employee uptake if they have to download an app
#7 4over4
4over4 is a printing company that offers a range of business cards printed with soy-based inks. They've been in the industry for a long time so are experienced at creating a wide range of business cards with many customizable features.
Cost: For a set of 100 standard colour business cards it's $16. It's increasingly expensive as you grow your company, a whole new set of business cards must be ordered with each hire.
Pros:
Use soy-based inks
Experienced printers
Highly customizable
Affordable
Cons:
No carbon offset program
Cards can end up in the landfill
Their paper materials are not recycled
Carbon emissions from shipping & transport
#8 Overnight Prints
Overnight Prints is a printing company that uses 100% post-consumer recycled paper free from processed chlorine to create their eco-friendly business cards. They also use waterless printing, an innovative process which saves on thousands of gallons of water being wasted. They offer different shapes and sizes of business cards, as well as rounded or straight corners and a finished or unfinished coating. made from recycled paper and printed with vegetable-based inks.
Cost: For reference they charge $7.04 for 25 premium business cards, prices vary depending on the quality of card chosen with a slight discount available for bulk single-orders.
Pros:
Use 100% post-consumer recycled paper
Innovative waterless printing
Highly customisable with a large range of designs
Paper free from processed chlorine
Cons:
More expensive than other options
Physical cards might still end up in the landfill
No digital equivalent
Shipping materials are not eco friendly
Difficult to scale and maintain
#9 Botanical PaperWorks
Botanical Paperworks is a Canadian-based company that makes innovative eco-friendly business cards from recycled paper embedded with a blend of non-invasive wildflower seeds. These cards can be planted after use, creating a fun and eco friendly option, making them a great option for a memorable marketing moment. They're cards are highly customizable, with different paper colors and graphic designs, as well as the ability to print on both sides of the card.
Cost: Prices start at $1.39 per card for a minimum order of 50 cards.
Pros:
100% post-consumer recycled paper
Seeds contribute to sustainability
Cool design and ability to plant the card makes it memorable
Highly-customisable
Cons:
Expensive, much more so than other options
Relatively high minimum order size
Carbon emissions from shipment
High price makes it hard to use these cards at scale
#10 Hemp Press
Hemp Press is a printing press that ingeniously uses hemp paper as a sustainable alternative to traditional paper. Hemp paper is made from the hemp plant which grows quicker and requires less water than other crops – making it a far more eco-friendly option. Hemp Press's business cards are chlorine free and can be customized with everything from embossing to foiling. However, it's important to note their minimum order is 250 cards which is quite high compared to competitors.
Cost: Hemp Press's pricing starts at $110 for 250 cards, they only offer discounts on orders of 2500 cards or more of the same design. Making this option notably more expensive than others.
Pros:
Promotes circular economy
Promotes use of hemp plant as paper alternative
Recyclable and biodegradable materials
Overall uses less water and energy
Highly customizable
Cons:
Much more expensive than other competitors
High minimum order
7-12 business day turnaround makes it slower than competitors
Cards can get lost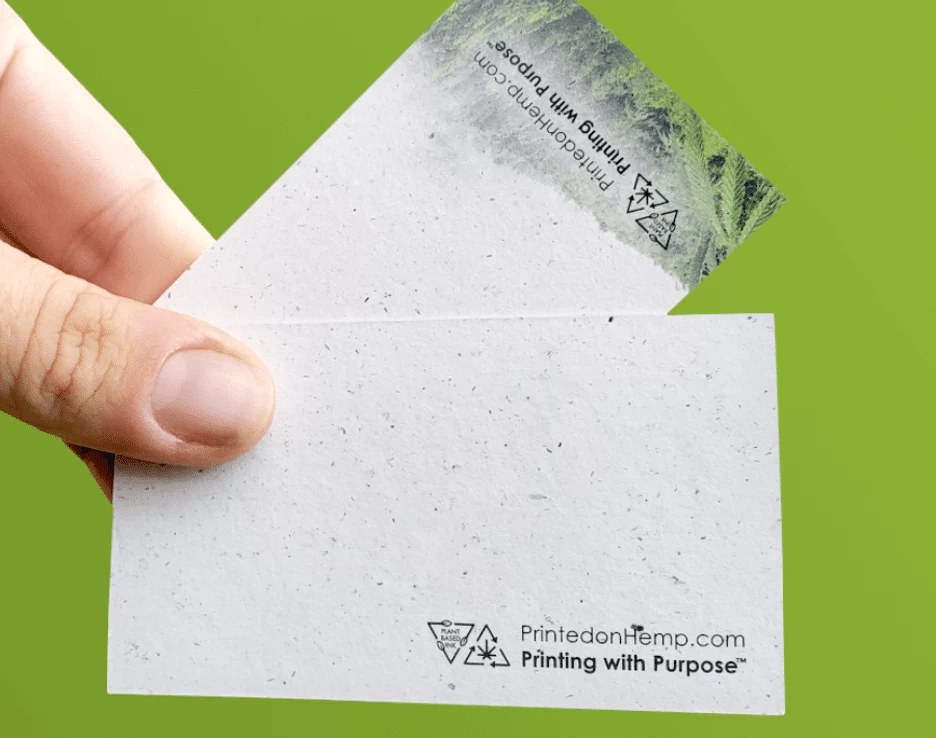 #11 ForeverFiancés
Established in 2008, ForeverFiancés is a pioneer of the eco friendly printing industry. They have developed a range of handmade seeded papers, one with wildflowers seeds and one with garden herb seeds which come in a multitude of colors. Their high-quality printing facilities are able to render your logo, graphics and company name true to form on its unique seeded papers. And when the business card is no longer of use, you can plant it directly into your garden using their specific planting method. It's important to note however that their turnaround times are longer than the average printer due to the paper being handmade.
Cost: For their minimum order of 125 cards it's $87.97, with no discounts offered for bulk orders.
Pros:
Plantable paper makes a great impression
Very sustainable
Handmade
Range of different colors to choose from
Established business
Cons:
Much more expensive than competitors
Long turnaround time
High minimum order
Difficult to scale
No bulk order discounts
#12 Haystack App
Last but not least we have the Haystack App! A digital business card app, Haystack allows customers to go paper-free and thus save on trees. Through the app, customers can create and share their own digital business cards safe in the knowledge that the company will keep their data safe with their SOC2 accreditation.
Cost: While Haystack is free for individuals, there's a base cost of $4.95 per month for a team in addition to a charge of $27.50 per card per year.
Pros:
Paper-free
Digital therefore no shipping
SOC2 certified
Cons:
Pricing makes it difficult to scale
Services require users download an app
Not stored in your digital wallet
Why choose eco friendly business cards?
Environmental Benefits of Eco Business Cards
Using eco friendly business cards significantly reduces the environmental impact of you and your business. Digital cards or cards made from recycled paper and responsibly sourced materials use less energy, chemicals and water in the manufacturing process as well as reduce landfill waste (especially when using digital business cards).
Ethical Benefits of Eco-Friendly Business Cards
The ethical benefits of using eco business cards are multiple. First off, you promote the social responsibility of both individuals and businesses by prioritizing sustainable production in your consumer choice and supporting fair trade practices. Not only is it empowering to choose products aligned with your morals but it also protects both human health and the planet.
Marketing Benefits of Eco-Friendly Business Cards
Eco friendly business cards appeal to multiple customer segments and are very useful in marketing. They help your business stand out from the competition by tangibly demonstrating your commitment to sustainability and enhancing the environmental image of your brand, which appeals to both the environmentally conscious consumer as well as others.
Savings over traditional business cards
If you're using a digital card like Doorway, not only do you save on the environmental impact but it's also more efficient and cost-effective when scaling your business in the long-term. You completely eliminate that need to reorder, maintain and worry about the longevity of your physical cards. While with physical eco friendly cards you save on the ecological impact but they do tend to be more expensive than traditional business cards.
Conclusion
In this article we've mapped out the best business card choices for the environmentally conscious. Perfectly summarizing the pros and cons of choosing digital over physical cards, made out of recycled materials. The most cost-effective and environmentally friendly was digital, with Doorway leading the pack. But for those who want a more handmade approach, Botanical Paperworks and ForeverFiancés seed studded paper make for very unique card.
Most Common Questions People Also Ask (PAA) Related to Sustainable Business Cards:
What makes a business card eco-friendly?
If it's either digital or made from recyclable materials and non-toxic ink which can biodegrade.
How do biodegradable business cards work?
Biodegradable business cards are made from materials that microorganisms consume when exposed, so if properly composted the cards won't end up in a landfill.
Can recycled paper business cards still look professional?
Yes they can. Many printers have a wide selection of card types and designs suitable for professional use.
What are some creative design ideas for eco-friendly business cards?
Most card companies will have the option to create a design for you, but a clean, simple design is always a good look.
What printing and finishing options are available for green business cards?
Many! Most card printers will be able to do great quality full colour printing with square or rounded corners, laminate finish, white edges and different font size.