Networking is evolving at a record pace, thanks to our increasing reliance on technology and the need for contactless, remote working solutions. ​​This, and adopting sustainable business practises is more important than ever – making the digital business card a useful, if not essential, tool for everyone.
The innovative technology of digital business cards allows for social and environmental progress. More and more professionals are turning to digital processes, especially those who rely on relationships to drive business growth and strengthen CRM.
There are so many reasons to digitise your business card and move toward smoother transactions of information – we have narrowed it down to five crucial reasons to go digital:
1. Sustainability
Roughly 70% of total waste in offices is paper waste. Now more than ever, businesses are looking for ways to promote positive sustainable steps to their customers – this also applies to measuring ESG (Environmental, Social Corporate Governance) within a company. ESG criteria is of increasing interest to companies with growing concern of their ethical status. Promoting a sustainable business model includes ways of digitising simple practises – this can start simple with business cards.
With effective cloud-based technology, your details are always up to date. Swap environmental, and economically costly paper cards, with one versatile digital business card.
2. Easier to generate online networking opportunities
With Doorway, details are saved into the recipient's native phonebook – and vice versa – helping to increase retention and maximise business opportunities. Digitising your business card keeps all your assets in one place, so everything you need is in the palm of your hand.
With the omnipresent concern of social distancing, digital business cards allow for safe, contactless sharing of information. Doorway's smart QR-scanning, means you can network with peace of mind
3. Connectivity
With many digital business cards, including Doorway, you can connect with people without WiFi connection, without an app and without hassle. Opting for a digital card presents a smarter way of connecting with potential clients or customers – making you and your team more responsive to generating new leads. With freedom to network, connect and scan at every event, you'll never run out of cards or skip a beat.
4. Interactive
Digital business cards allow you to make a statement. From your company's brand identity to its colour palette, a digital card is designed to be an extension of your business. Once downloaded, your new Doorway card sits in your Apple Wallet or Google Pay – ready for anything.
Update team's details in real time while removing the need to reorder stacks of new paper cards if your promotion triggers a title change.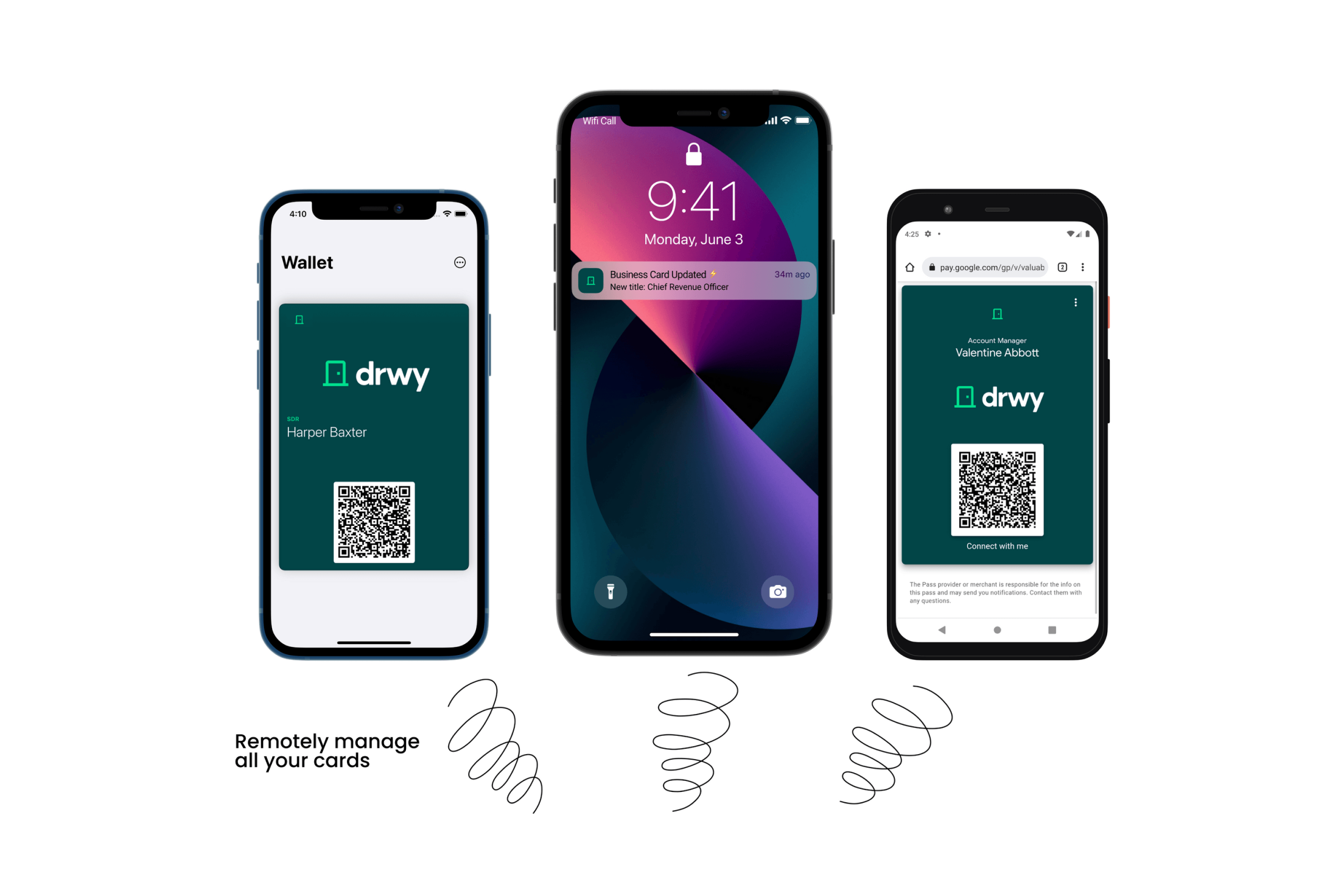 5. 1-month FREE trial for Doorway business cards
Digitising your business card has never been easier, or more cost-effective. Doorway helps businesses connect, anywhere, any time.
Take the friction out of sharing details on the go and have your first month for FREE, with a 1-month business card trial on us. Head over to getdoorway.com to design, download and start connecting now.
Digitise your business card with Doorway – 1-Month Free Trial