Doorway
Enterprise Tier
Unlock the full potential of your business with our Enterprise Tier. Elevate your professional image, streamline your operations, and plant the seeds of sustainability with our comprehensive suite of features tailored to your organization.
Elevate your corporate identity
Custom Number of Cards
 and Designs
Tailor your digital business card deployment to suit your exact needs. Whether you have 300 employees or more than 10,000, our Enterprise tier scales to meet your demands.
Unleash your creativity with a wide range of design templates. Create unique and engaging digital business cards for your employees.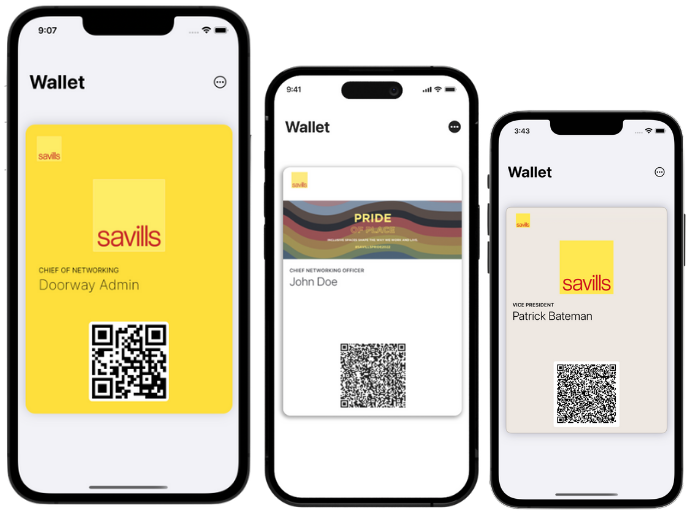 Custom Trees Planted Per Month
Foster a legacy of positive change with Doorway.
At the pinnacle of sustainability, our Enterprise Tier not only enhances your corporate identity but also contributes to a greener planet. We proudly plant a custom number of trees each month on behalf of our clients, aligning your brand with eco-conscious global projects. Elevate your corporate responsibility and social impact with our Enterprise Tier.

Join us in our commitment to sustainability. With the Enterprise tier, you have the power to decide how many trees your organization helps plant each month, offsetting your carbon footprint.

Custom Admins to Control Card Details
Delegate authority within your organization by assigning a custom number of admins who can manage card details effortlessly.
Our Enterprise Tier gives you the ability to designate a custom number of admins to make card management simple. Seamlessly control and customize the card details of your employees, ensuring precision in representation and a unified brand identity across your organization.
Up to 50 Administrative Units for global companies
Empower your brand with administrative units. Enterprise Tier gives your organization up to 50 administrative units, making it ideal for large and global enterprises with multiple divisions.
Administrative Units ensure seamless card design management, and allows tailored oversight for diverse teams.
SSO (Single Sign-On)
Ensure a robust and user-friendly environment with the added advantage of Single Sign-On (SSO). Elevate both security and user convenience as your employees seamlessly access our platform with a single set of credentials. Streamline authentication and enhance overall data protection.
Enhance security and streamline access with Single Sign-On integration, making it easier for your employees to use our platform securely.
HR Integration via SCIM2
Wave goodbye to manual data entry.
Doorway's Enterprise Tier lets you integrate Doorway with your incumbent HR system. This means that when an employee's information is updated, our platform utilizes SCIM2 to automatically and securely retrieve and process the user's most up to date information.
This process eliminates manual data entry, reduces the risk of errors, and ensures both accuracy and convenience in your organizational identity management.
White-Labelled Login & Interface
Maintain a consistent brand image.

Make your corporate identity solution complete with a white-labelled interface. This Enterprise Tier feature allows users to engage with a customized, branded environment, reinforcing a consistent and professional image.
Enterprise Tier guarantees that your employees experience a seamless transition to our platform that does not disrupt your brand.
Up to 3 Push Notifications Per Month
Revolutionize internal communications and achieve brand alignment.
Enterprise Tier provides organizations with the ability to send up to 3 target push notifications per month directly to employees. Enhance engagement and keep your workforce informed about updates, announcements, or important events effortlessly.
Elevate team connectivity and streamline internal communication.
Dedicated Onboarding & Customer Service Manager
Experience personalized support from day one with a dedicated onboarding and customer service manager who will guide you through the setup process and beyond.
From initial setup to ongoing assistance, our specialists ensure a seamless integration of our digital business card solution into your workflow, providing personalized guidance and addressing any queries.

24/7 Priority Support 
Your business never sleeps, and neither do we. Enjoy 24/7 priority support, ensuring that you receive immediate assistance whenever you need it.
Upgrade to Enterprise Today
Don't miss out on the opportunity to supercharge your organization's digital presence. Join the ranks of industry leaders who trust Doorway for their digital business card needs.
See all our plans on our pricing page.
FAQ's
Answers to common questions.
Digital business cards are a more efficient and sustainable way to exchange contact information. They're used by both individuals and businesses globally because they provide a more engaging, cost-effective, and eco-friendly alternative to physical business cards.